#FourMonksClean Challenge – Non-Toxic Way To Clean!
This post may contain affiliate links and I may be compensated for this post. Please read our disclosure policy here.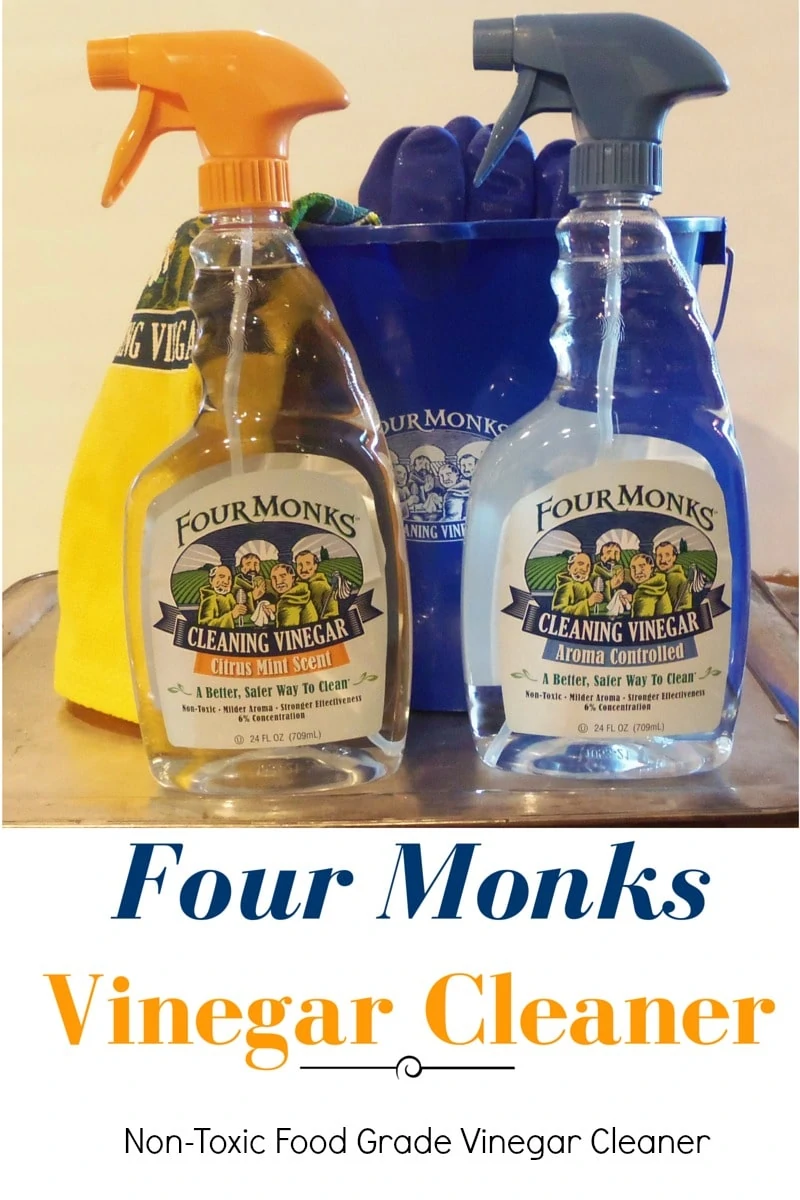 #FourMonksClean Challenge
If you are looking for an affordable and non-toxic way to clean your house, consider Vinegar. It's a non-toxic cleaner and unharmful (chemical free) way to get things clean without adding toxins to your home environment. Having one child with severe asthma, its important for me to find ways to keep my house clean without adding more toxins during that process. Vinegar is one affordable way to do that!
I have been cleaning my coffee pot with vinegar for years, but have recently learned of all of the other benefits of using Vinegar. I have also found a new product, Four Monks Cleaning Vinegars, that make the vinegar based cleaning products in a spray bottle, you can use for cleaning safely around your house.
Four Monks is an all purpose non-toxic cleaner, made using food grade vinegar (so it is safe to ingest). It is non-toxic, and environmentally friendly, making it a great addition to household cleaning supply kits (especially if you have kids and pets in the house).
In addition to being non-toxic, its also affordable. You can find it at Walmart SuperCenters in the vinegar aisle, at a very affordable price point.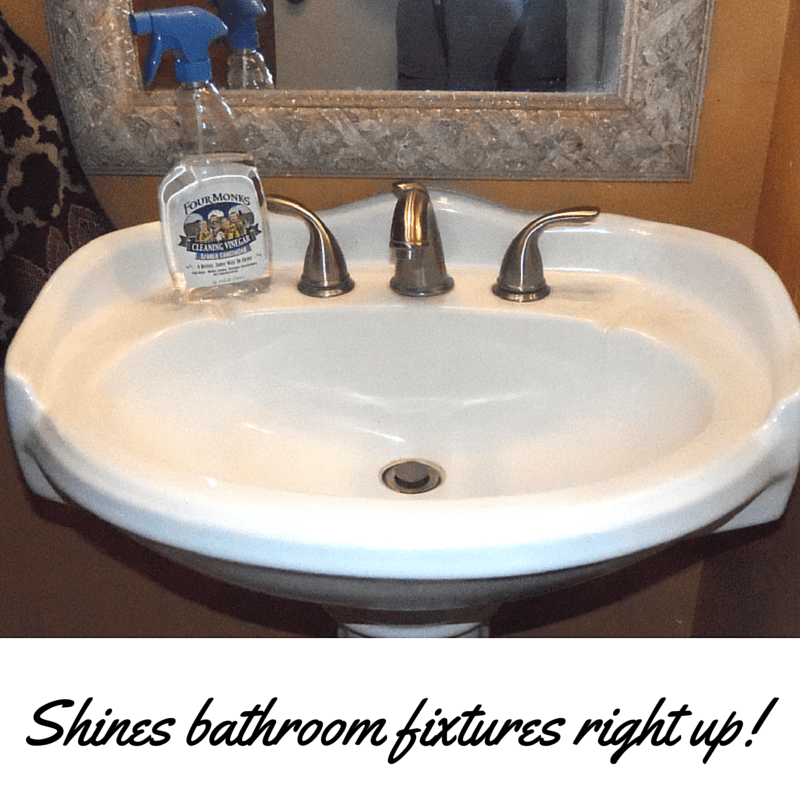 Things I love about cleaning with Four Monks:
I love that it does not aggravate any breathing issues for my son with Asthma. I love this more then anything else about cleaning with the product! A few years ago we actually had a specialist from the health department come out to our home to help us find as many ways as possible to make the house a safe environment for my son. One of their recommendations to us was to use non-toxic cleaning products like vinegar. I really like that I can buy it ready to go in the spray bottles from Four Monks, to keep things simple.
I also love the fact that they have a Vinegar Cleaning Tips page. This is fantastic if you are new to using vinegar to clean with, and want to know where you can and where you should not clean with Vinegar.
It's an affordable way to clean safely. I mentioned that we have some health issues that make me very conscientious about what cleaners we use in our household, and many non-toxic cleaners can be expensive. I can find the Four Monks cleaner at my local Walmart SuperCenters in the vinegar aisle for just under $2.50 per bottle. Plus, they have a $1 off or 4 Monk products coupon you can print to save when buying it too. That means that I can use the coupon to get it for around $2.25 a bottle, which is a fantastic price point for me!
Things that I do not love (and how to get around them): 
I am not a fan of the vinegar smell. These cleaning products will smell like vinegar (less so then if you used a homemade vinegar cleaner, but I did still smell a strong vinegar smell when cleaning with them).
It does not bother some people, but if you are like me, and it does bother you here are some ideas on how to get the benefit of cleaning with it and lessen the smell:
Clean when your family is not home. The smell will go away, but I find it best to clean with these products when the kids are at school, so they don't complain of funny smells.
Add a few drops of your favorite Essential Oils to the spray bottles. I added 4 drops of Thieves to mine this time of year, to provide added cleaning benefit and mask the smell somewhat.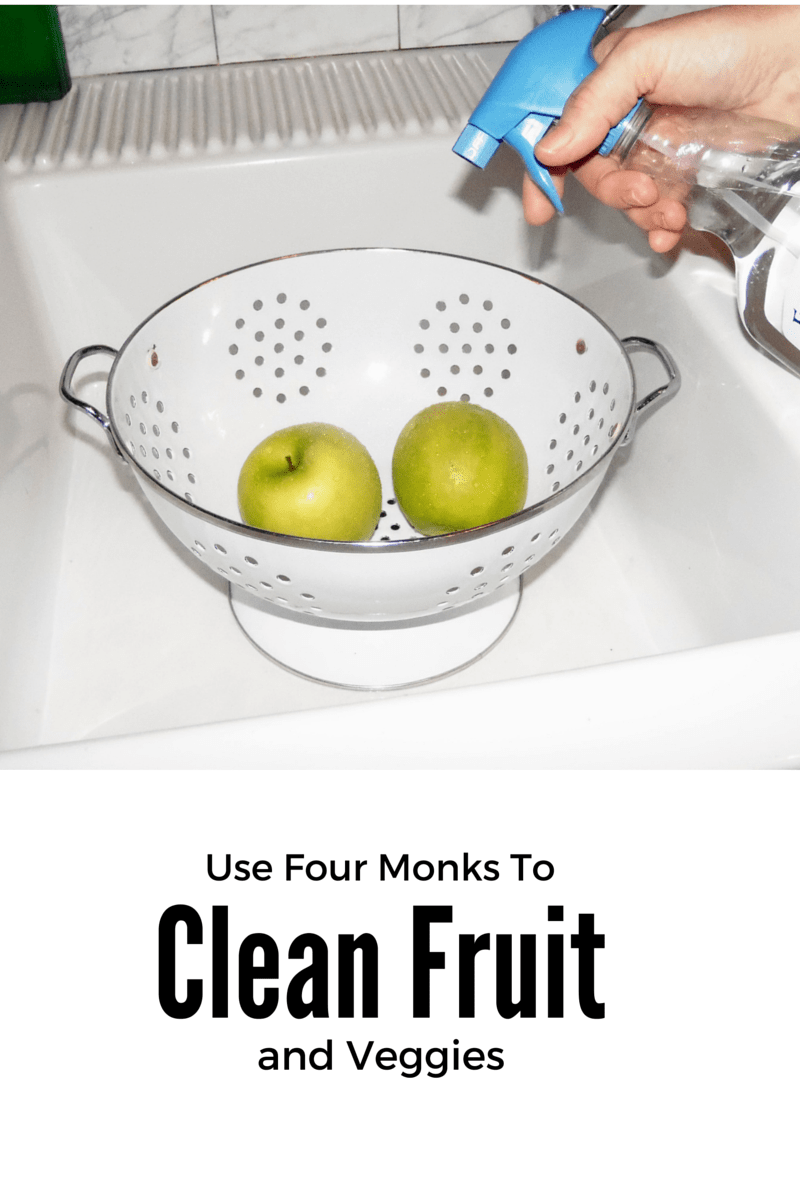 Some of my favorite uses for Four Monks Cleaning Sprays: 
I like to use it for general cleaning purposes (in the shower, kitchen surfaces like counter-tops and oven top, etc). In addition to general cleaning purposes, here are some additional ways I love to use it.
Use it to keep your bathroom and kitchen fixtures shiny (it will remove the spots that like to build up on fixtures). Spray it and leave on for a few minutes, then wash down with water.
Use it in the summer to keep ants away! Simply spray the Vinegar based cleaner along access points in the house (doorways, windowsills, etc) or where you find them appearing (countertops, etc), and this should help keep them at bay.
Use it to remove stickers the kids may have "decorated" your house with. I don't know about you, but I have been finding stickers on favorite furniture pieces around my house for the past 15 years or so. To make removal much easier I spray soak the stickers with the Monks Four Cleaning Spray solution for a few minutes then rub off.
Clean your fruits and vegetables with the spray. I throw my produce into a colander in the sink, and spray down with the Four Monks Vinegar spray. Then rub it around thoroughly and wash off. Its a super simple way to clean produce, and for me simple means that its more likely to get done regularly.
Cleaning out the odors from my kids lunch boxes. Now, I know I mentioned that I am not a fan of the vinegar smell above. So, it may surprise you to find out that Vinegar based cleaning products, like Four Monks, can actually help get rid of unwanted smells (act as a deoderizer), but that is one of its functions. And since the vinegar smell itself will dissipate over a short amount of time, it is a great product to use to get rid of those stale lunch box smells. I spray a small amount in their lunch boxes every couple of weeks and rub around then let it sit overnight and rinse and dry out the following day.
Cleaning my microwave – pour a cup in a bowl and microwave on high for 3 minutes. You should be able to easily wipe the inside of your microwave clean after that.
Cleaning my refrigerator. Not only is it a great way to clean your refrigerator, but its food grade safe so you do not have to worry about chemicals getting on your food. And it will deodorize too (as the vinegar smell goes away).
Cleaning my coffee pot. I have found this to be the most effective way to clean my regular coffee pot. I recently got an espresso machine, and they also recommend that I run a vinegar solution through it a few times a year to de-calcify it (build up from the water).  I will be using Four Monks to keep my espresso machine maintained too.
 * Disclosure: This post was sponsored by Four Monks. All opinions are 100% my own. See our disclosure policy for more details.