Back to School Shopping on a Budget – Kohl's Shopping Trip! 10 items for $50 total!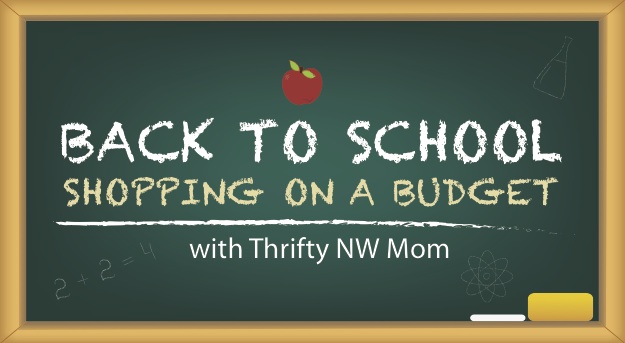 Sia shared her Kohl's back to school shopping trip with you last week when she took her teenage son shopping for clothes & I wanted to share my trip to find some back to school items for my two girls. My girls are now 6 & almost 4 & they will be going into first grade & the first year of preschool for my younger daughter.
We had a discussion on the Thrifty NW Mom Facebook page a few days ago about whether you buy the majority of your clothes during back to school shopping to get it done for the year or if you buy throughout the year when you find sales. I am definitely someone who shops throughout the year , looking for the best sales to buy items for my girls for the school year, as well as stock up on next year's sizes, too, when items are clearanced out. However, I do feel that back to school time can be a fantastic time to do some of your shopping as many stores are offering so many different promotions you can take advantage of. The key is to try to match up those sales with a coupon to maximize your savings even more!
My tips for back to school clothes shopping:
Check for any special promotions, coupons, or discounts before you leave the house – When I went to Kohl's earlier in the week, they were offering a 15% off printable coupon or 20% off if you spend $100 (although I was planning on spending just close to $50 so I didn't even think about the 20% off because I'd be spending more than I planned). This coupon is available thru tonight (8/23) if you have any online shopping to do at Kohls.com – just use the coupon code: LPS15OFF for the 15% off or coupon code: TAKE20 for 20% off $100 or more. I also had received this coupon as a mailer coupon. I also received the same coupon as a mailer, valid for 8/24 – 8/25 so I'm hoping that this will also be available to print or use online starting tomorrow (but I can't guarantee it, it's just a hunch).
*Side note: Did you know you can also use the printable coupon as an online coupon if you forgot to print. I had this happen earlier in the summer when I was stopped by Kohl's unexpectedly & didn't have a coupon with me – so they let me use it with my phone. I don't know if this is the policy but it doesn't hurt to ask!
I also knew that Kohl's was offering Kohl's cash thru 8/23 (tonight) where you will earn a coupon to come back & spend at a later date dependent on how much you spend. For every $50 you spend, you'd get a $10 coupon for Kohl's cash. So, my goal was to spend as close to $50 as possible & then if I found anything else, I could come back with the Kohl's cash (starting 8/24) & use the Kohl's cash. I'll also be looking for another coupon to  pair with the Kohl's cash, too, to stretch my money even further.
Another option for some of you may be opening a Kohl's credit card as you can save 20% off your total that day. They also do offer special discounts & coupons during the year for cardmembers. Personally, we are not fans of credit cards period, so I decided not to go that route, but that's another way to save.
Decide on a plan for what you need based on an assessment of your child's clothes & your budget – We had a great guest post earlier in the week from Tara from Savvy Styling NW about assessing what your child needs before doing any shopping. You might be pleasantly surprised to see that you don't need as many items as you were thinking. But at least you're going in with a plan so you don't come home with 10 tops & no pants & you already were set on tops.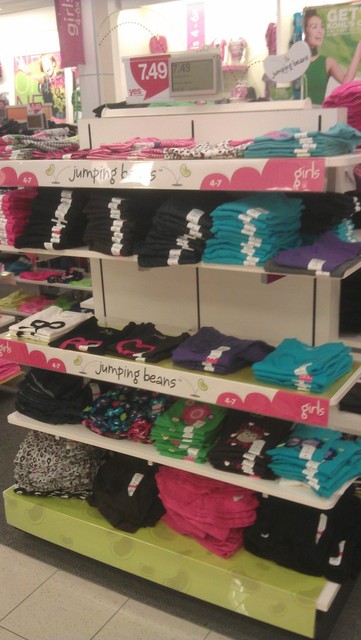 After assessing my girls' clothes, I knew that I was mainly focused on the basics, clothes that could be used in multiple ways & with multiple outfits. My girls love skirts & leggings now (it's pretty much all they want to wear) so those were 2 things I was on the lookout for, as well as a few outfits.
 I ended up finding a great display of just what I was needing – basic skirts along with some cute matching shirts (as you can see above) – they had these for my older daughter's size for $7.49/ea(size 6-7) as well as for my younger girls' size (2t-4t) for $5.99/ea. This is right in my target range of what I typically pay for new clothes – around $4-8. Even better, when you factor in my coupon & the Kohl's cash I'd receive. I also ended up finding 2 packs of leggings for $11 – just $5.50/ea in basic colors.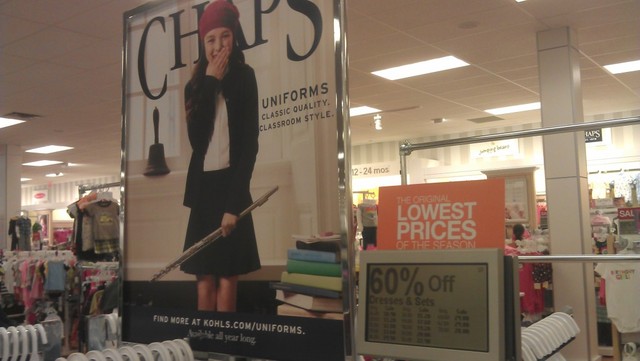 Just as a side note, if you're looking for school uniforms (the very basics) , they had 60% off Chaps uniforms – mostly $10-20 range. I have never shopped for uniforms, so I dont' know if this is the best deal you can find or not, but they did have a pretty good selection.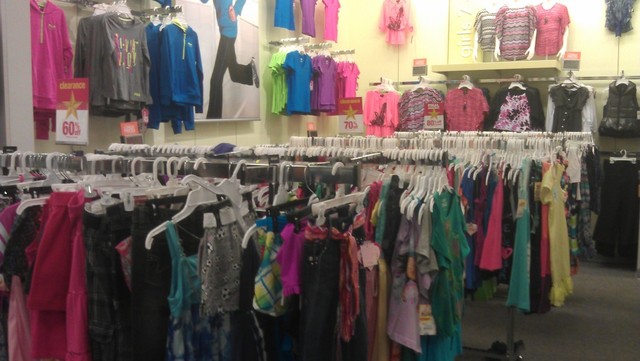 Always check the clearance sections – This is always my very first stop when I head to a store – always gotta check the clearance out in all the sections! However, I have learned it's not a good deal if you're just not going to wear it, so make sure it's definitely something you just have to have! I did end up finding a cute little Hawaiian shirt for my older daughter for around $5 in the clearance section – it wasn't one of the basics that we needed but she still needs short-sleeve shirts & it was just too cute – I knew she'd love it!
How did I do?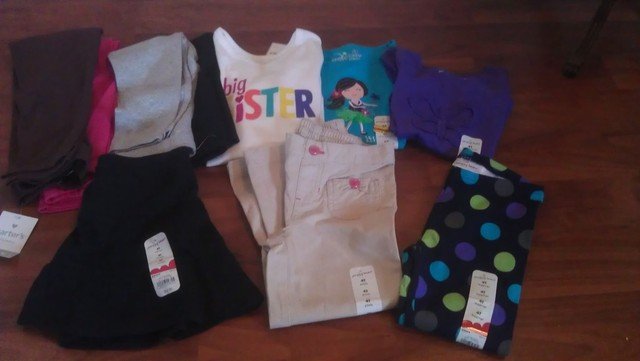 All in all, I definitely thought I had a successful trip! I managed to buy 10 items for my girls (mainly skirts/leggings with a few tops & 1 cute outfti for my little gal thrown in there) for just $51.02 + tax after sales & my 15% off coupon.  That works out to just $5/item basically. I also now have $10 in Kohl's cash to use this next week. I'm *hoping* to head back there tomorrow to pair my $10 in Kohl's cash with another 15% off coupon I received by mail to use on 8/24 & 8/25. I already picked out a basic purple top & skirt for my older gal ($7.49/ea) – with my $10 Kohl's cash & 15% off coupon, I'll just pay $2.73 + tax. So, that will mean a total of 12 items for around $4.50/item!! Not bad at all!!
I could have found some even better deals by shopping more of the clearance items, but I didn't see anything we really needed except the one shirt, so I think it still turned out well considering I stuck to my list & the basic items that we were needed.
Shopping Trip Breakdown:
4 pairs of leggings for $22
Girls long-sleeve top – $8.99 (that was a splurge for me – loved the Big Sister shirt)
2 pairs of toddler pants, toddler skirt & toddler shirt – $5.99/ea = $18
Clearance girls top – $5.10
Used 15% off coupon
Total Paid: $51.02 for 10 items or $5.01/ea
+ Received $10 in Kohl's cash to use starting 8/24
Total Saved: $75.98
Disclosure: Kohls provided us a $50 gift card to shop with, to illustrate how we can make our budgets stretch shopping with Kohls. We selected to work with Kohls, since we have previously saved there in other shopping trips, and knew there were great money saving opportunities for back to school clothes.  All opinions are 100% mine. See our disclosure policy  for more details.