5 Reasons to Always Bring a Flashlight When Traveling
This post may contain affiliate links and I may be compensated for this post. Please read our disclosure policy here.
Disclosure:  This post is sponsored by Surefire. However, all opinions and experiences are 100% my own. See our disclosure policy for more details.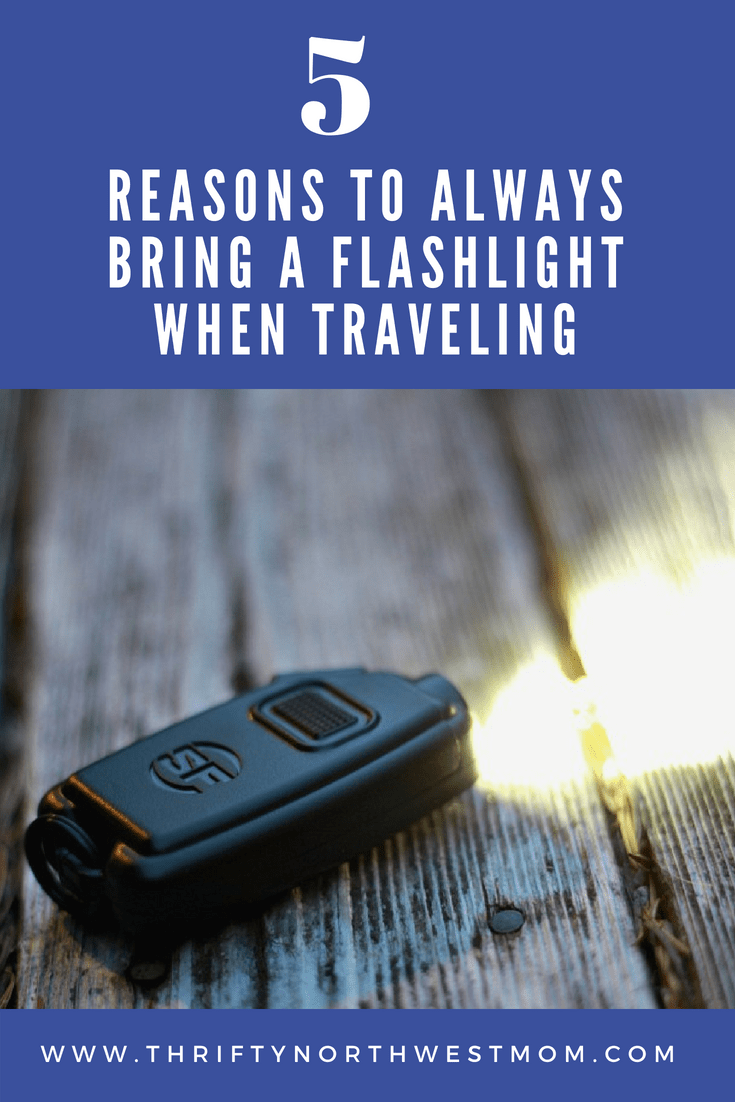 5 Reasons to Always Bring a Flashlight when Traveling
Summer is almost here and school breaks are happening around the country, with the Northwest just a few more weeks to go till school's out. And that means the start of the busy summer travel season! We are busy planning our summer traveling including a trip this weekend up to the mountains so we are putting together all of our essential items for our trip. One of the items that we never travel without is a high-quality flashlight. That is one of the essentials for any of our travels, whether it be a day trip or staycation around the local area or if we're headed out for a week or two.
Here are 5 reasons a flashlight is so important to bring on your travels as well as details about the Surefire Sidekick keychain flashlight that is extremely powerful & durable.
1 – Personal Safety
Whether you are spending the day locally in your nearest city, spending all day & evening at a busy Disney park or backpacking in the Rocky mountains, a flashlight will always be important to have on hand in your purse or bag for keeping you safe once the sun goes down. Once you leave an area with good lighting such as in the city or at an amusement park, your eyes will be even more sensitive to the dark and you'll want to have a flashlight on hand to keep you from tripping or falling.
You may not plan to  stay out as late as you do and then be unprepared when you head out from a restaurant to walk back to your hotel & realize that it's quite dark & you have a few blocks to walk, so this is when you will want to pull out the flashlight to keep from tripping on curbs and to be aware of your surroundings.
If you're headed out on a day hike or a hike on your travels, a flashlight is key as you never know how long you may be on the trail if you were to get lost, a trail takes much longer than you expected or if someone gets hurt. You always want to carry a flashlight & be prepared to hike after dark if necessary. A flashlight is listed as one of the 10 Essentials for Hiking that you should always carry in your backpack whether it's just a short 2 mile hike or a 10 mile hike.
An example of the necessity of flashlights is the Columbia Gorge Eagle Creek Fire last year that was close to Multnomah Falls in Western Oregon. There were a number of hikers who had gone on this short 4 mile round-trip hike to Punchbowl Falls for the afternoon. 150 of those hikers ended up being stranded overnight due to the fire that started behind them & blocking the trail to their cars. They  had to hike out over 14 miles on a different route to get to safety the next day.
In that case, a 4 mile hike turned into a 14 mile overnight hike, so that shows why you just never know what will happen on even a short hike & why it's so critical to always carry a flashlight with you. If you are relying on your cell phone for a flashlight, it would have drained the battery quickly, so not only would they have been without a flashlight, but also a means of contacting emergency crews.
2 – Emergency for Power Outages
When you are traveling, you always have to be prepared for any type of emergency. One such issue that may arise is that the power may go out when you are in a hotel and it would be critical to have a strong flashlight with you to be able to get around your room safely without lights on. Also, you would need it if you are needing to leave your hotel & navigate the hallways, stairs and more to get outside, along with safety walking outside in a power outage.  Again, if you rely on your cell phone flashlight, it won't be as powerful & it will wear down your cell phone battery quickly, which is important to keep charged & handy for reaching people in situations like that.
3 -Find missing items 
How is it that on almost every trip, we find items from our girls under beds or mistakenly hidden under the covers. As part of our routine for leaving a hotel or cabin, my husband and I both go thru & double check every room, bathroom, closet & cupboards. Having a flashlight makes this task much easier to search under beds, in dark closets & at the backs of drawers.
Another use for flashlights when traveling is to be able to search the trunk of your rental car or under car seats to make sure that you don't leave anything inside the car. We did not do this on a getaway to California a few years back and ended up leaving a bag of my essential oils slightly under the seat (I'd put them there out of the sun) and a quick scan thru with a flashlight would have found this quickly.
4 – Check for Bed Bugs in Hotel Rooms 
This is something we have learned to do, especially as my husband has gone on International trips in the past where there were issues with some of the hotels.  With a flashlight, you can do a quick scan of the mattresses in your hotel room to look for bed bugs. I know this is not the most pleasant topic, but it could help put your mind at ease if you check when you arrive at a hotel.
The way it works is that you want to pull the sheets back and look at all the corners of the mattress where the seams are. Shine the flashlight in the corners and look for any movement (live bed bugs). You also want to look for any tiny, white exoskeletons from when they shed or little droppings (black or dark red). Find more tips & details about what to look for on the EPA website. The more powerful your flashlight, the easier it will be to do a quick scan to ease your mind and feel more comfortable about where you are sleeping.
5 – Medical
Along with a first-aid kit, which should always be in your travel gear, you can also use a flashlight for any medical needs that arise on your travels. There are many ways you could use a flashlight for a more powerful light source when dealing with health concerns that happen with kids and adults.
Here are a few ways:
Check for ticks after a hike on yourself, your kids & your pets (especially). If you are camping, you will definitely want to do this at the end of each day. Animals are the most prone to get ticks because of running in the tall grasses, but it can be difficult to see through their fur, so a high-powered flashlight can help you do a thorough search
Help with splinters – splinters can be tricky to get out, so having a powerful flashlight to illuminate the area you are working on with your tweezers or needles can save you time & hopefully be less painful as you are going straight to the source of the splinter
Cleaning cuts or or other wounds – if your child gets a cut or falls & scrapes their legs or arms, you'll want to make sure you thoroughly clean the area before applying any special ointments and bandaids for healing. The best way to do that is to shine a flashlight on the area to make sure you have completely removed all of the rocks & debris from the wound
Surefire Sidekick Keychain Light:
If you are looking for a compact, excellent flashlight for travel, look no further than the Surefire Sidekick Keychain Light. This is perfect for traveling as it is as compact & light as they come as just fitting on your keychain and no bigger than your car key.
The Surefire Sidekick has 3 light outputs ranging from 5 lumens on the low setting, 60 lumens on the medium setting and 300 lumens on the high setting. That range of light output gives you more than 50 meters of light ahead of you that will come in handy when traveling for any of the reasons we mentioned above in which you might need a flashlight. You can also bring it down to the low setting for a book light or more detailed light in smaller settings.
I love that you can use the micro USB port to charge it via a wall charger or your car, so you don't have to worry about batteries dying & having none on hand while you are away traveling.
This Surefire Sidekick keychain light is really ideal for anyone to keep on hand for your travels or just everyday life. If you have a teen who is driving, this would definitely be the best option for them so they don't ever forget to bring a flashlight, but can just keep it stored on their keychain, in their purse or attached to a backpack, so they don't get in a situation with no access to light.
If you think you can just use your cell phone light for those necessary times when you need a flashlight, keep in mind that the light output from a typical smartphone is less than 1% of the light output of this Surefire Sidekick keychain light. Plus, it will drain your battery very fast using the flashlight feature, so save your cell battery and use the Sidekick for your light source.
Video about Surefire Sidekick:
See the Surefire Sidekick in action and see how it compares to standard flashlights at night in this video!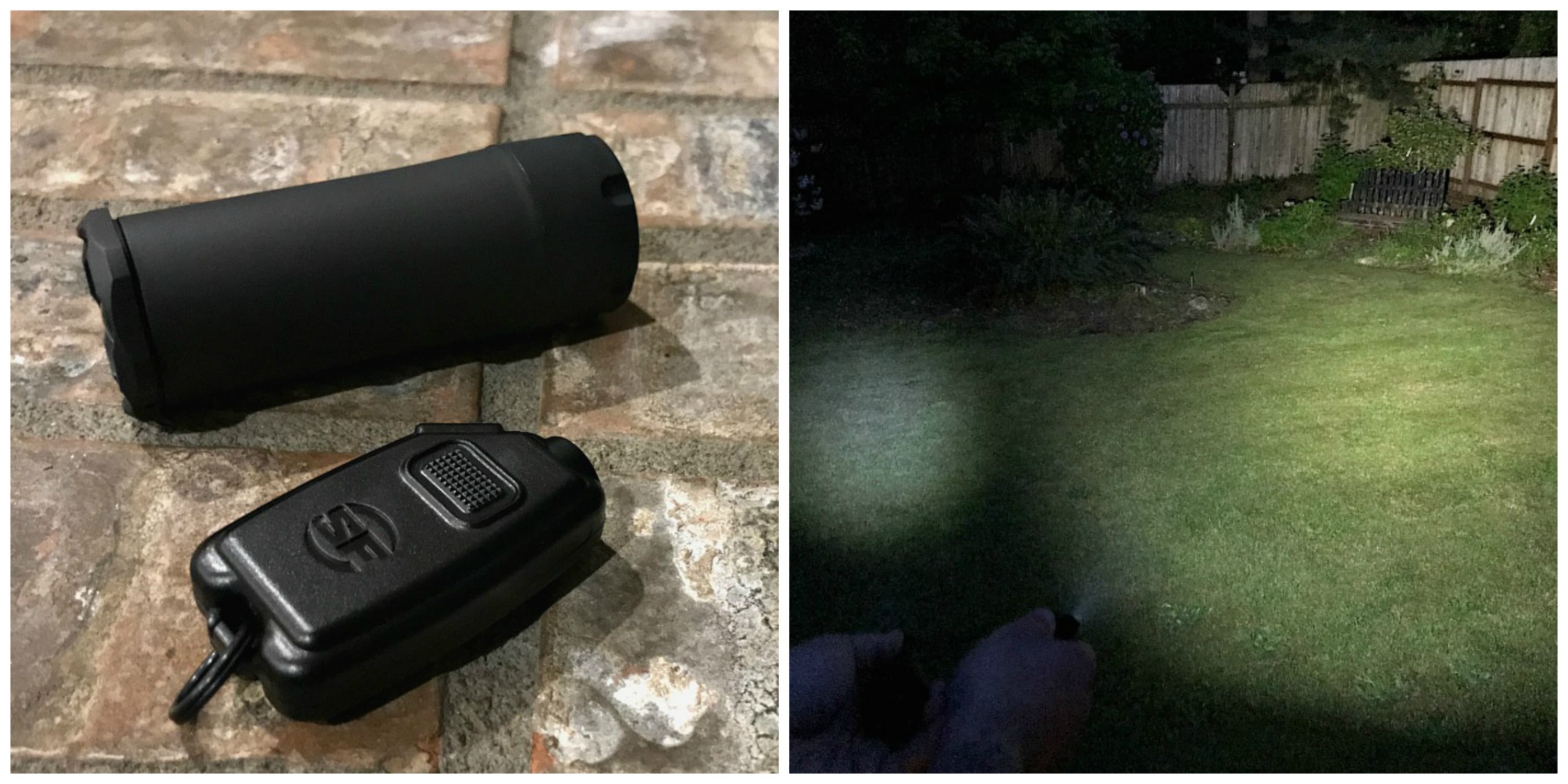 Comparison between a standard flashlight  (beam on left) & the Surefire Sidekick Keychain Light (beam on right)  
Triple Light Output & Extended RunTime:
Low – 5 lumens & 45 hours of runtime
Medium – 60 lumens & 4 hours of runtime
High – 300 lumens & 1 hour & 15 minutes of runtime
Rechargeable – instead of needing to replace the batteries constantly, this has a micro USB charging port with cord included to recharge the light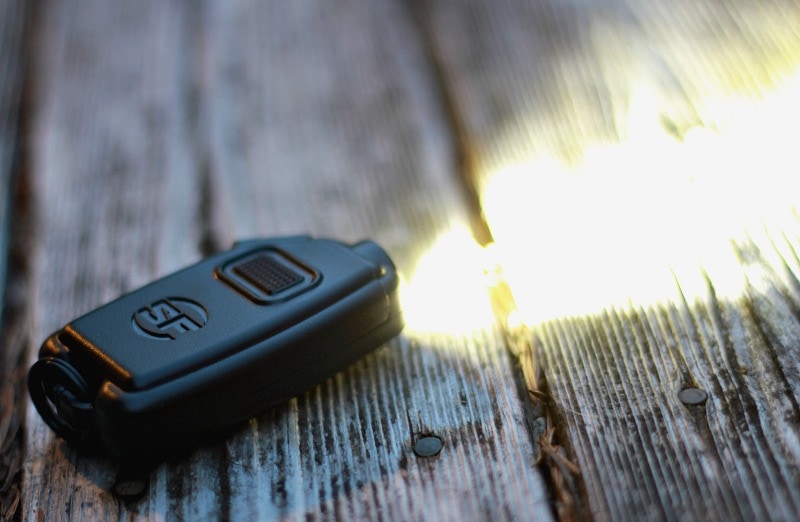 Features a high performance LED & smooth MaxVision beam – this beam is optimized for the human eye with the special faceted reflector along with the high performance LED light
Uses an Easy Click-Type of Switch to change the output levels to the 3 settings
Compact, lightweight polymer body is weather resistant & features a split ring for easy attachment to keys or carabiner clips
Background about Surefire Flashlights: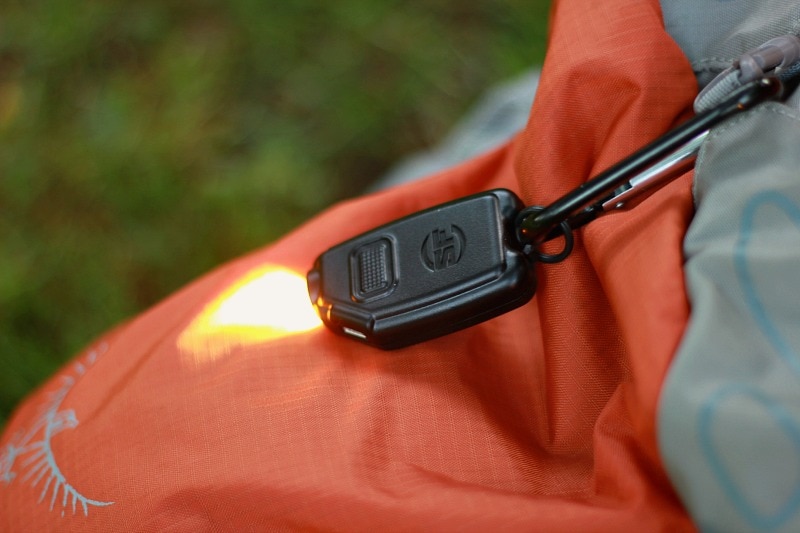 Surefire Sidekick Keychain Light Attached to a Carabiner for Easy Access on a Backpack
For those of you unfamiliar with the Surefire brand, this is the brand that has been used for over 30 years by the law enforcement & military communities. I can attest to this fact as when I mentioned to my husband about working with Surefire illumination products to share on the blog, he was excited as he used Surefire tactical flashlights in his previous job as a Law Enforcement Park Ranger.
The Surefire brand were the flashlights that all of the law enforcement rangers used for patrolling the parks due to their powerful light output, rugged flashlight body and dependability that he could count on. It was the brightest flashlight he has ever used and it made it much easier for him to walk the trails at night on patrols and do his job safely due to its reliability and durability.
Surefire started by providing illumination products to the military and law enforcement communities, but they have now expanded to providing products to all consumers. They use the same technology, high-quality materials, and engineering that goes into their military & law enforcement products for their products they sell for everyday use, so you know you are getting very high-quality and lasting products when you purchase from Surefire.
Have you ever had experience with the Surefire products? We'd love to hear your experiences with Surefire Illumination Products!