25 Days of Christmas with Springfree Trampolines – Make a Winter Wonderland Outside for Kids!
This post may contain affiliate links and I may be compensated for this post. Please read our disclosure policy here.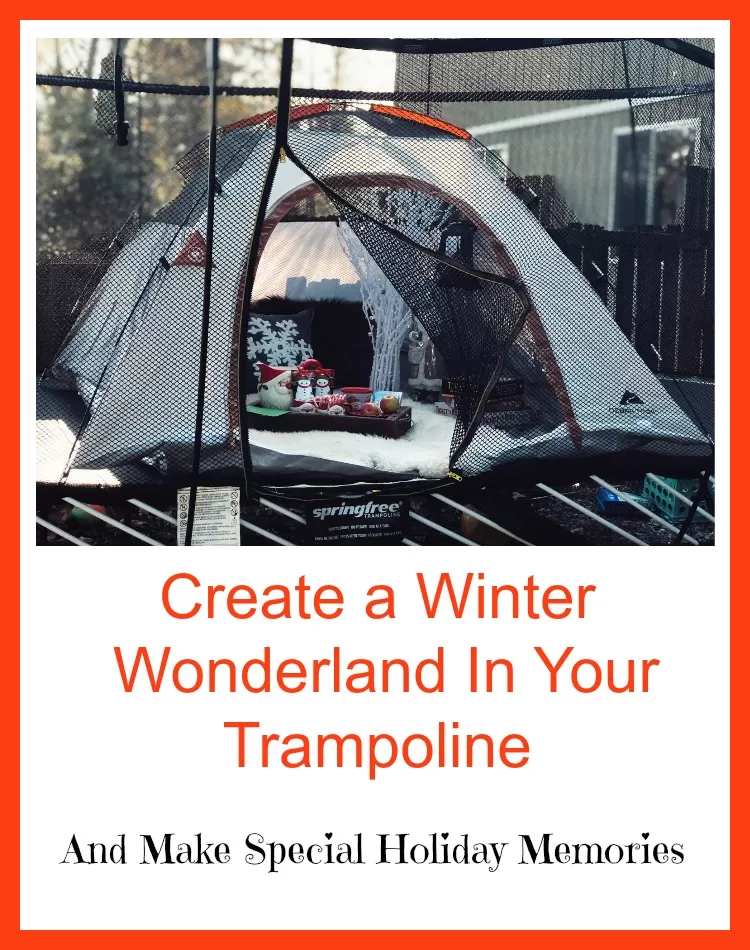 25 Days of Christmas Activities – Taking a Day Off to Play Board Games & Drink Hot Chocolate!
Each year we share ideas to celebrate 25 days of Christmas with your family. Some people refer to it as Advent activities, but the idea is that you pick an activity or craft or go to an event as a family for each day in December. Its like an advent calendar where the kids would open up a box each day, but in this version you intentionally take a day to do an activity with your family.
This year has been a particularly hectic one for our family, so I wanted to be intentional about not just adding another activity to our calendar. I wanted to take something away, to make time to be deliberate about spending a day enjoying time with my family. With all of the planning, shopping, preparing, running around etc. that can suck our energy during the holidays, I wanted to plan one day that I intentionally did not do ANY of these things, and just enjoyed time with the kids.
It is also a time of the year that we tend to spend more time inside, so I wanted to find a way to make things fun outside for the kids as part of the hanging out together. We have a Springfree Trampoline in our backyard, that the kids love to play on, so I decided to transform the trampoline into an outdoor Winter Wonderland where we could play games and enjoy some treats and hot chocolate. It was so fun to create a fort area in the trampoline that would let us hang out in the outdoors, but still be protected from any bad weather. It was a huge hit with the kids!
This is a simple idea that anyone can use to carve time away from their hectic holiday schedule, and instead plan a day to spend with your family. It does not require a big budget if you already have a trampoline. We have the oval Springfree Trampoline, and it was the perfect shape to put a small pop up tent in as the base for our Winter Wonderland. My goal was really to take time off of thinking about a "to do" list that the holidays seem to bring, and to just have time to play games with my kids and connect. However, I knew if I said we were having a game day the kids would only get a little excited. If I told them I was creating a Winter Wonderland in the backyard, well that is a whole different story. They actually got so excited they invited a number of kids from the neighborhood to come play games too. Since I kept the activities and snacks really simple, this was no problem, and my girls where able to have fun with friends and family.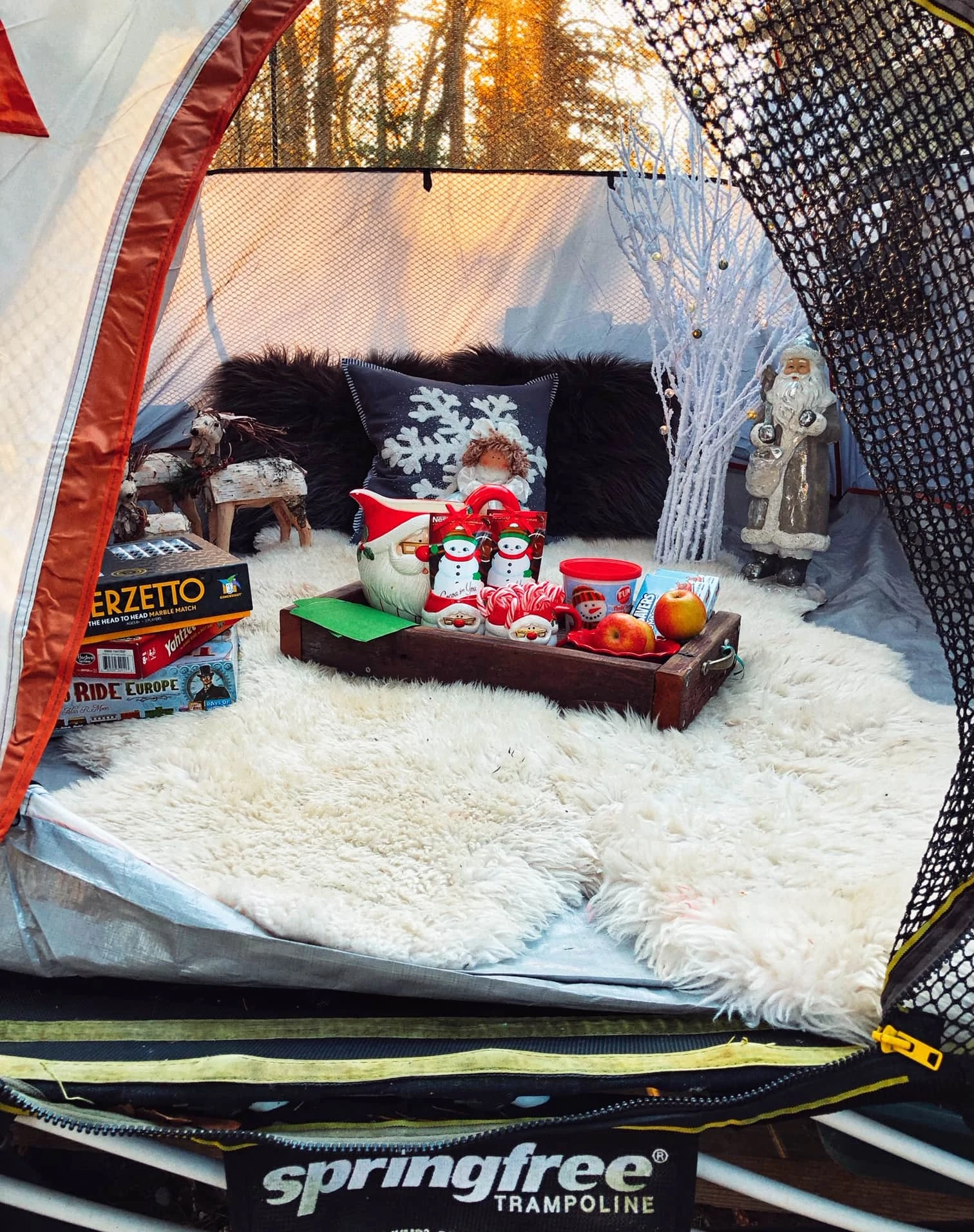 I started to prepare the Winter Wonderland while the kids where at school. I knew all the decorations where not necessarily practical, but I wanted them to come home to something that looked really cool, so they would want to hang out in it. When it was time to get in we took out some of the extra decor so there was plenty of room for us all the hang out – but they loved coming home to this set up. They talked about how much fun it was all night.
I put the simple pop up tent inside our trampoline. I then brought out a fluffy area rug we have in the house, and some Christmas pillows and decor I had on hand too. Once I had all that set up, I made a tray of hot chocolate and treats (to get them excited, but I waited until they were home to make up the hot cocoa). I also stacked some board games, and had cookies ready to decorate inside.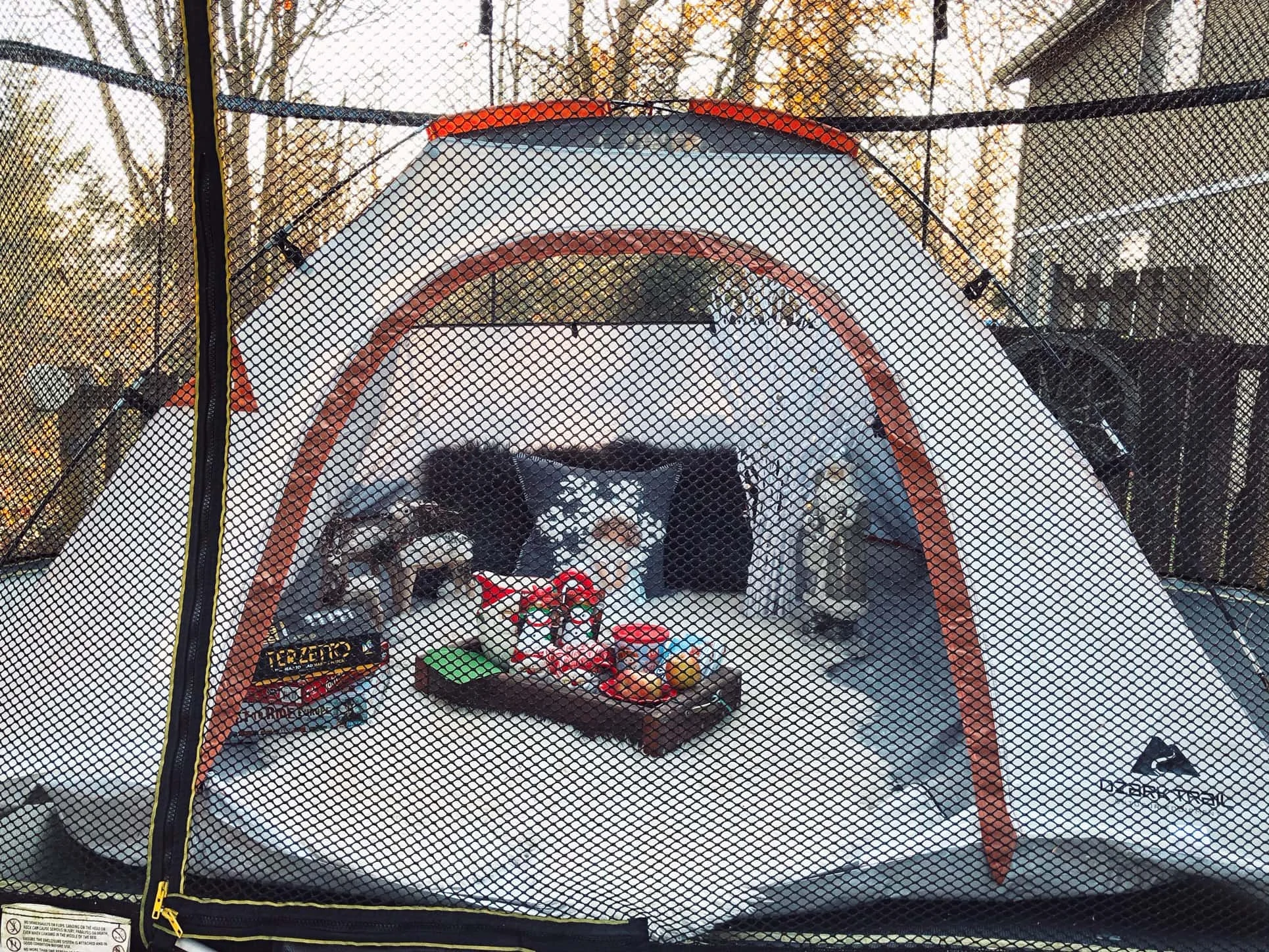 Once I had everything set up, I zipped the tent and waited for the kids to get home from school.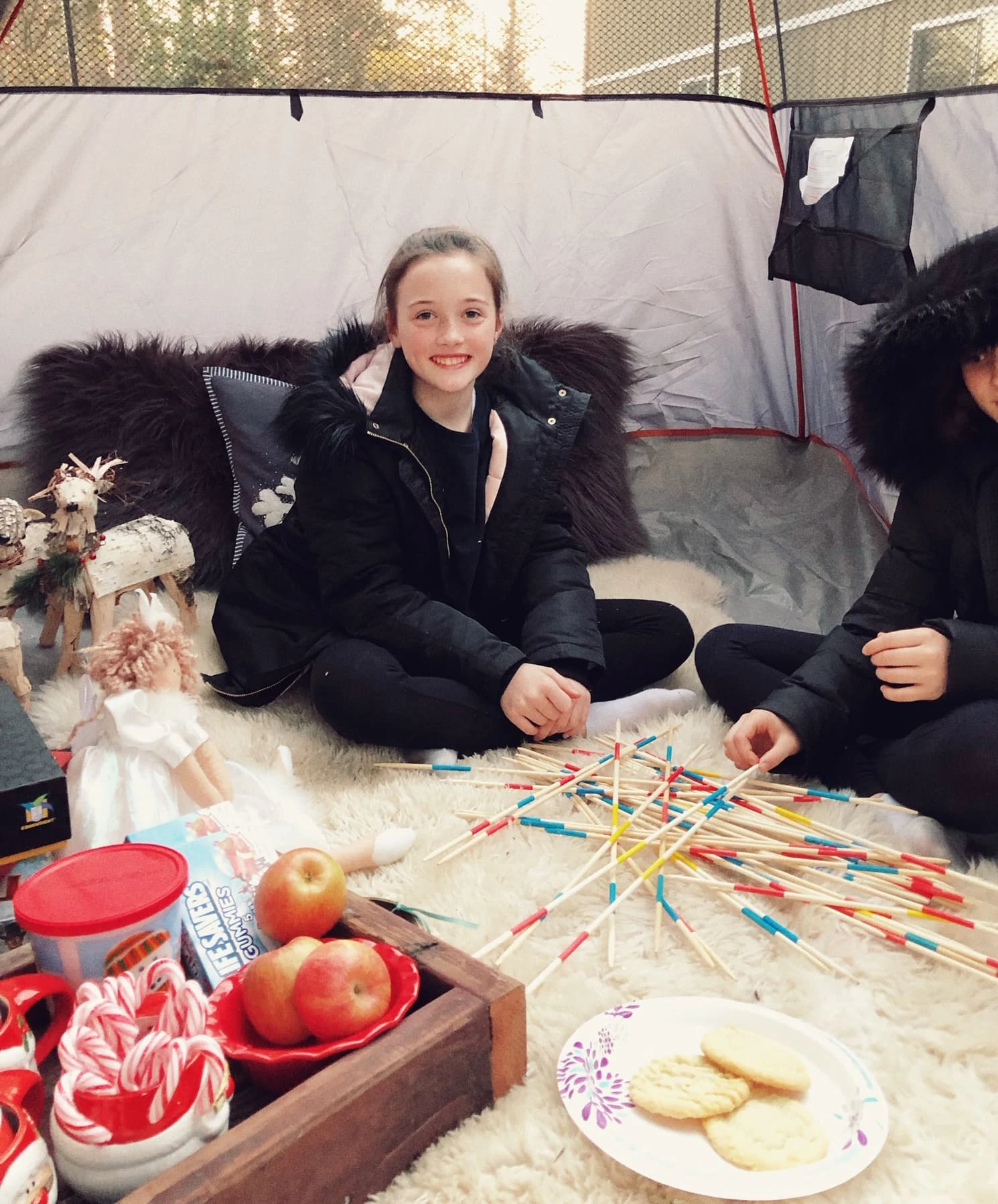 We found this old fashion set of giant pick up sticks, that seemed like a perfect match for our game day. In addition to this game, I just brought out a stack of some of their favorite games to put in the tent to select from.
And we found these faux snow balls (they are really soft) to have a snowball fight inside our trampoline fort with. The kids loved this!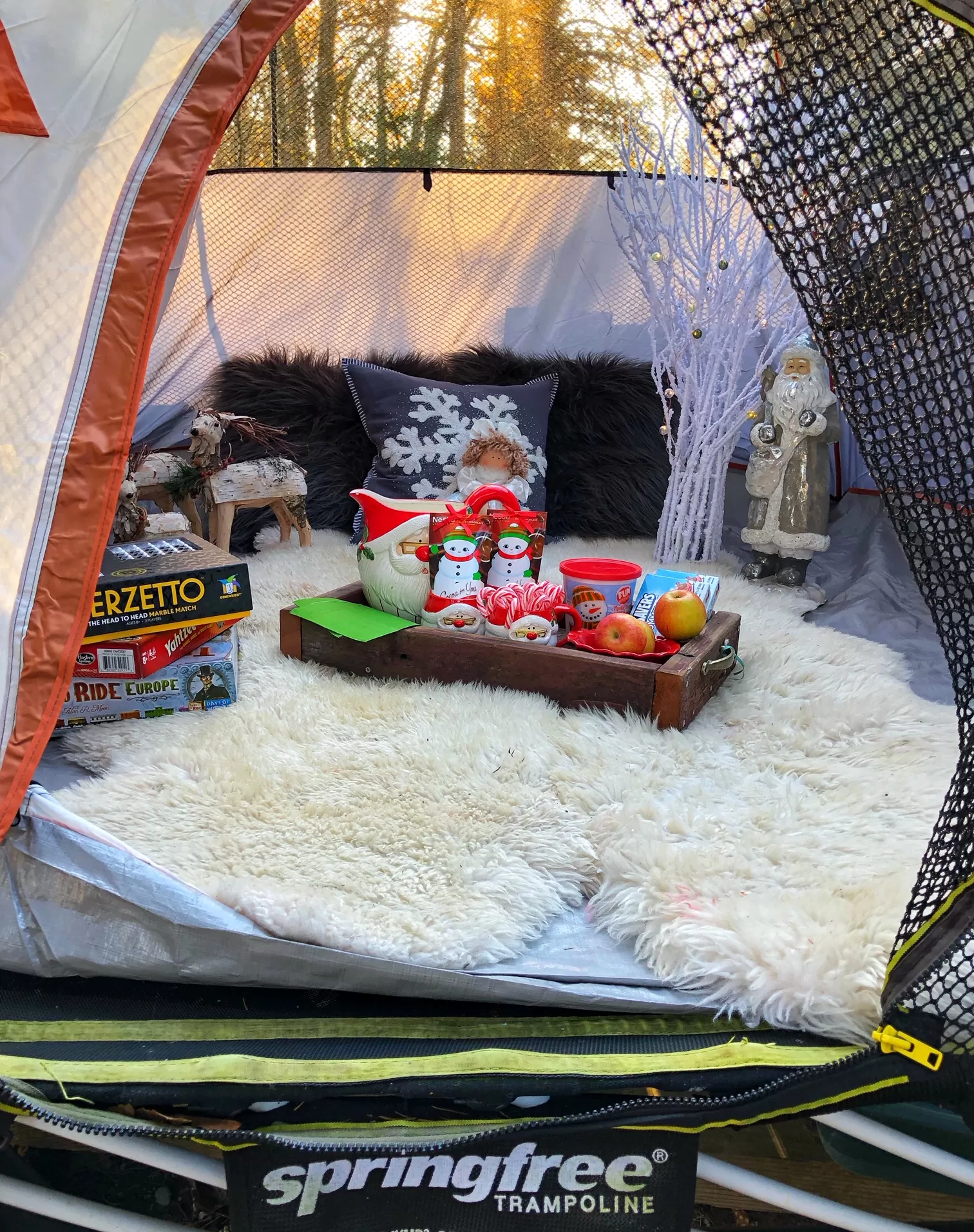 To make your own trampoline fort, simply set up a pop up tent, and add a fuzzy rug or blanket, and whatever pillows you might have on hand. You can bring out a few Christmas decorations from the house to give it some holiday spirit. All you need now are some of your families favorite games, and snacks!
If you are interested in getting your own Springfree Trampoline check out this offer that Springfree is running in December for the holidays. For the first time ever, Springfree is discounting its trampolines! Save up to $500 on the purchase of a trampoline plus get delivery and installation for $299 (reg. $399) with promo code SANTASAVINGS. This is a rare discount from Springfree, so a great one to use if you have been considering the purchase of your own trampoline.
Disclosure: This post was sponsored by Springfree Trampolines. We do have a Springfree in our backyard, and all opinions are 100% my own and based on our experience with our trampoline.