$1 FlixBus Tickets (Between Seattle & Portland & More)!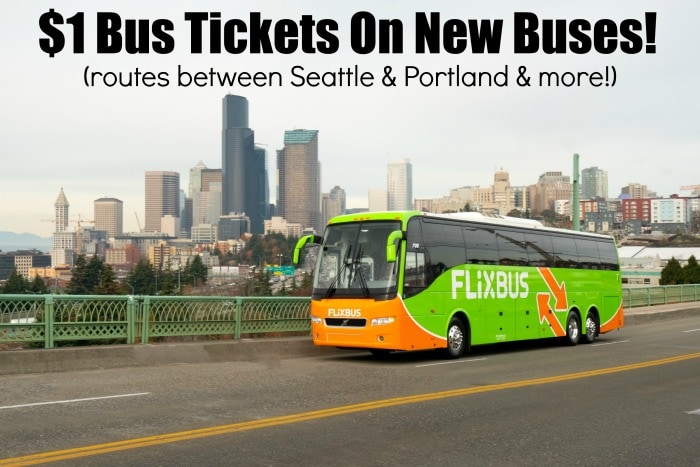 $1 FlixBus Tickets (Between Seattle & Portland & More)!
Have you heard of FlixBus yet? They are a new to our area bus line, but they have been operating in Europe for some time now. Right now they are offering a super promotion, to get folks on board. Get tickets for just $1 on their new buses. These will likely sell out quickly, so check this offer out soon if interested. Green 2020: save green and take the greenest mode of travel in America. Here are more details.
Save green to travel green with FlixBus in 2020; all tickets booked before December 22 for travel between January 6 to March 15 are 99 cents.
Travel for the entire FlixBus network for less than $1. Here is how:
Book before December 22
Travel between January 6 to March 15
Tickets for these dates should be just $0.99 cent per ticket, while available.
Visit Over 100 Destinations for Less Than $1. There are routes throughout the world, but here in the Pacific Northwest you will find a number of stops in Washington and Oregon. You can travel from Seattle to Portland, or Seattle to Spokane and many routes in between and beyond!
More about Flixbus:
FlixBus was born in Europe with the vision of making bus travel cool again and is now America's fastest-growing intercity bus provider. With over 100 destinations spanning both the East and West Coasts as well as the deep South, there's a FlixBus stop in nearly every corner of the United States. In its core markets in Arizona, Nevada and California, FlixBus is already the leading player on many relations, serving some relations like Las Vegas to Los Angeles as much as 14 times a day in each direction.
The FlixBus fleet averages 1-2 years old, with complimentary on-board WiFi, power outlets at every seat, and the option to make travel carbon-neutral during booking.
Tickets for this offer can be purchased online, via the FlixBus app, or in person at any FlixShop location.