Groupon has a great deal today for Seattle's Woodland Park Zoo. They are offering zoo admission tickets for just $8/each.  This is up to a 53% discount, as tickets in the summer for adults and teens are $17.50 (thru September 30th). Kids ages 3-12 will cost $11.50/ticket through September 30th as well, so you'll definitely want to take advantage of this Groupon deal if you are wanting to head to the Woodland Park Zoo anytime soon.
You'll be able to buy 1 ticket and 7 additional tickets for gifts (maybe for the other members in your family) at that discounted price, for a total of 8 tickets. You'll have until April 30th, 2012, to use your tickets.
*They have already sold over 7500 tickets this morning, so I wouldn't delay if you're interested in these tickets; I'm not sure how many are available.
How to take advantage of the deal::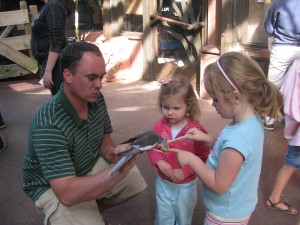 We actually just went to the zoo in July when my mother-in-law was visiting from Ohio & it reminded me that the Woodland Park Zoo is truly one of my favorite zoos in the country (and I've visited a fair number of zoos). I just love the beautiful, relaxed setting.  And my girls loved the Willawong station where they got to feed the birds.
Thanks Facebook Fan Somer!