Win a Baby Stroller Gift Card – $100 Certificate Giveaway!

Win a Baby Stroller Gift Card – $100 to Spend at Diapers.com!
Update: Don't forget to enter to win $100 Gift Card!! Ends Monday 10/10/16!!
*****************
Are you looking for strollers, car seats or baby items? If so, we want to help one Thrifty Northwest Mom reader out by offering a $100 gift certificate giveaway! Be sure to enter this giveaway for a $100 gift certificate (details below)!
If this is the first time you are purchasing a stroller, you can check out this resource on Parenting.com that will provide some tips on what to look for in a stroller. Its a great idea to do a bit of research ahead of time, as there is a wide variety of options for strollers these days to fit your lifestyle. This way you will know what you are looking for when you go to shop for one.
If you are looking at buying a car seat, we have a couple of resources to help you out there as well. Here are some tips on what to consider before making a car seat purchase, and here is a checklist you can use to make sure you are installing your new car seat correctly once you have it. You can even find a safe kids car seat event in your area if you want an expert to double check how you have installed your child's car seat.
 Now that you are equipped with all of the information you need to buy your next stroller or car seat, be sure to enter to win a $100 gift certificate to buy it with!  You can see what strollers, car seats or other items are available at Diapers.com too. They carry a huge variety of name brands for all of these items!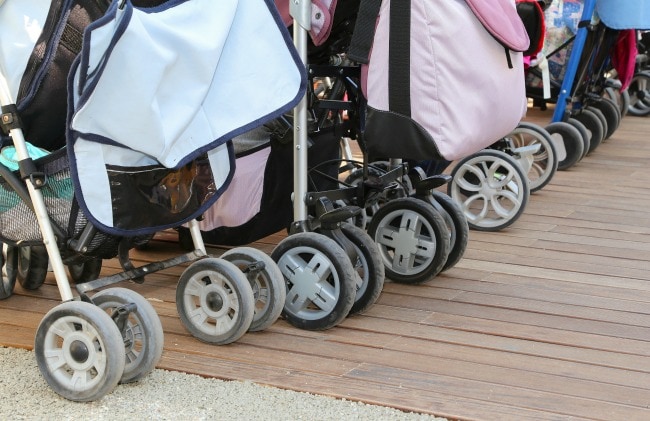 Giveaway –$100 Gift Certificate 
One Thrifty Northwest Mom reader will win a gift certificate to use to buy strollers, car seats or other baby/ child items you need from Diapers.com! Be sure to let anyone you know who is expecting a baby, or who has young children, know about this giveaway as well. The $100 Gift Certificate can really help out when you have kids!
This giveaway will end on Monday, October 10th, at 9pm pst.
The winners will be drawn using "And the Winner Is" plugin and announced on the blog.  I will also email the winners. The winners will have 48 hours to contact me, otherwise a new winner will be drawn. US residents only & you must be 18 yrs or older to enter the giveaway. This giveaway is not affiliated with Facebook in any way.
Here's how to enter this giveaway::
1st Entry (required entry): Comment below and let us know your favorite stroller or car seat brand you see on Diapers.com, and/or what you are hoping to use your gift certificate for!
Extra Entries : (make sure these are all separate comments, with a comment for each entry)
2) Subscribe to the Thrifty NW Mom emails (must be verified)
3) Leave a comment here saying you "shared" this post using one of the share buttons at the bottom (on this post – not on Facebook! )
Disclosure: This giveaway is a partnership with nakturnal.org, with a prize of a gift certificate.