Wild Waves Coupon – Daddy & Me Ticket for $19.99
If you are a Wild Waves Fan, head to Wild Waves for Father's Day to get a Daddy & Me ticket for just $19.99. You need to purchase this at the front gate ONLY (no online tickets) and you will receive 2 tickets for the price of 1 regular priced ticket (tickets at the gate are $19.99/ea). Or it's like paying for $5 for a ticket for dad over the $14.99 online price. Just mention KUBE's Daddy and Me Ticket at any Wild Waves Theme Park front gate ticket booth to purchase your tickets.
You can also get tickets for the rest of the family for $14.99 if you purchase your tickets online before you go; otherwise, they will be $19.99 at the gate for adults & kids over 48″. You can find out more information on the Wild Waves $14.99 tickets for June !
So, what you could do is purchase all but 2 tickets online before you go & then head to Wild Waves to purchase a Daddy & Me ticket for $19.99 (ticket for dad & 1 child) to get the best price!
Make sure to follow Wild Waves on Twitter and Facebook to get the most up-to-date info on Wild Waves & special promotion info.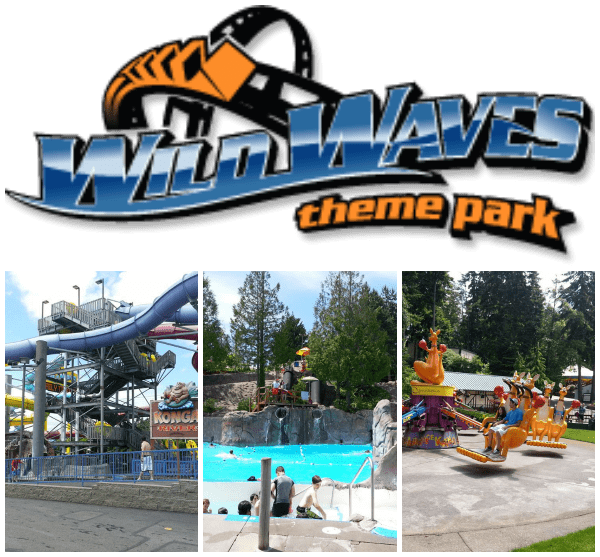 You can also find Sia's review of Wild Waves from last June, if you have not been before and are wondering what to expect.
We headed to Wild Waves yesterday & had a blast! You might be thinking Wild Waves is not the place to go on a cooler, cloudy day – but for us, it was perfect as we were able to ride tons of rides in the amusement park with little to no lines. We weren't quite brave enough for the water park but there were a lot of people also enjoying the water park, too, but the lines were also shorter & moving quickly. So, it's a great time of year to really be able to take full advantage of all Wild Waves has to offer without the busy summer crowds!  My girls can't wait to go back and check out the water park, along with the amusement park since there was so much to do to keep them busy! And mom & dad can't wait to ride more of the roller coasters. :)