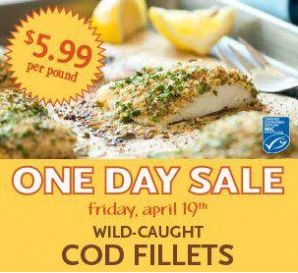 Whole Foods is having a 1 Day Sale on Wild Caught Cod Fillets for $5.99/lb on Friday April 19th. This is a 1 Day Sale only. Availability and limits may vary by region, so you can contact your store for details. While supplies last. Most of their stores do not provide rain checks for sales like this.
Line caught in the chilly waters of the Bering Sea on the fishing vessels Courageous and Alaskan Leader (How often can you say that you know the names of the boats that reeled in your fish?!), the cod is processed immediately and frozen for peak freshness so you can get cooking with the highest quality fish. With traceability and sustainability top of mind, we've got our own port buyer out there selecting wild-caught cod for this sale from Marine Stewardship Council certified sustainable fisheries.
Thanks Thrifty & Thriving!