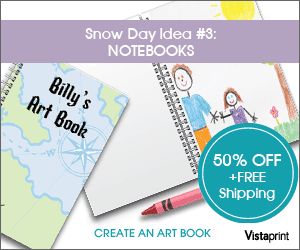 Today only, Vistaprint is currently offering a personalized notebook for $4.99 SHIPPED!  There are so many options for the notebook, choose one of Vistaprint's designs, upload your own design or picture, include pictures on the inside or outside cover, use lined  or blank paper, the combinations are endless!!
I bought 4 of these during the holiday season and every one of my recipients loved it!   I created a notebook for my mom that had a beautiful Vistaprint design and her name in a cursive print.  For my children, I created a sketchbook, with a playful design on the outside and blank pages for doodling on the inside.  I bought one for myself as well.  It is a simple notebook with lined paper and the cover pattern matches my grocery list pad that I also created at Vistaprint!
Vistaprint is a really great company, I've enjoyed everything I've purchased from there, including these personalized notebooks! I just wish I got them for $4.99!
Here's how it works:
Head to Vistaprint
Choose your design
Customize as you would like (you can click on "Advanced Editing" if you'd like to change the font, size, color, etc)
Accept your proofs
Make sure to not add any extras & choose the slow shipping option ($4.50 for 14 day or $7.24 for 7 day shipping -it always comes much faster than that, though – typically a week or less for the slow shipping option)
Checkout