VistaPrint – Free Custom Wall Or Desk Calendar (Pay $5.23 Shipping)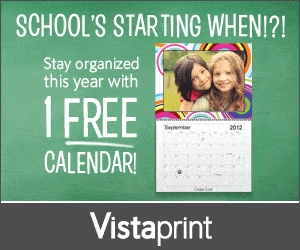 Vistaprint has a fun back to school deal available right now. Get a free Custom wall or desk calendar (with your images), and pay only shipping ($5.23). We make these for grandma every year, and I can tell you they cost us alot more then $5.23 (we have paid up to $19.99). Not only is this fun for kids to create their own school calendars, but they do make great gifts for grandparents or mom and dad too, if you like to plan ahead!
Note – Double check your shopping cart before checking out. A $6 promotional shirt was automatically added to mine and I had to manually remove it.
Head to Vistaprint here, and you will be able to upload your favorite photos, add text and icons to highlight your family gatherings, birthdays, anniversaries, school schedules and sporting events and more.
In addition to a variety of great designs, these calendars come with some great features and upgrade options:
Choose from a variety of themed designs for the perfect look
Customize individual dates with personal events: birthdays, anniversaries & other occasions
Add fun icons and text
Upload up to 13 of your favorite photos for FREE
Select your starting month and year
Order today and receive in as few as 3 Days
Let us know if you have other great tips on ideas for what to do with this free calendar?