Value Village – 50% off Sale on Monday – Martin Luther King Day
This post may contain affiliate links and I may be compensated for this post. Please read our disclosure policy here.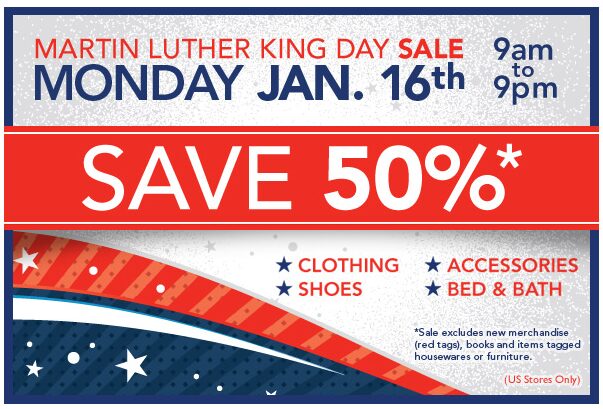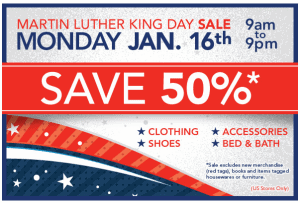 *Update: If you're a Super Savers Club member, then you can shop a day early for Value Village's 50% off sale. You'll need to have the card (or the signup confirmation if you just signed up) to go to the store & get your card to be able to participate. Thanks to all the readers who shared this!
***********************
Value Village will be having a BIG 50% off sale all day on Monday January 16th from 9am – 9pm.  You will be able to save 50% on clothing, shoes, accessories, & bed/bath items. The items excluded are any new items (red tags), books (boo – this is my favorite item to find at thrift stores) and items tagged as housewares or furniture.  This is for US stores only.  Find a Value Village store near you.
Value Village Super Savers Club:
You can also head over to the Value Village website & sign up for their Super Savers Club. You should start getting members-only coupons, information about special sales or events & more. I've heard that you're supposed to get a 25% off coupon to use; however, I signed up a day or two ago & haven't gotten a coupon yet, but hopefully it's coming!
*Update: You will not be sent the coupon, but when you receive an email confirmation of your signup, you will need to print that off & bring it with you to the store, where you will get your membership card for the Super Savers Club as well as the 25% off coupon! Thanks to the readers who brought that to my attention! :)
Thanks FB Fan Tracey!