Urban Farm Magazine – $8.99 A Year Subscription
Through tomorrow night only, subscribe to Urban Farm Magazine for only $8.99 per year (70% off)! You can order just  1 year at this price! Just enter coupon code THRIFTYNWMOM at checkout.  This offer expires Tues 11/11 at 8:59pm pt.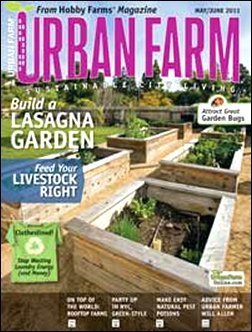 About Urban Farm Magazine:
This magazine is a guide for those in cities or suburbs looking to become more self-sufficient by growing some of their own food and treading lightly on the environment in the space they have. Articles include how-to projects, gardening basics, composting, beekeeping, roof-top gardening, preserving and freezing, and time and money-saving ideas.
If you find another magazine you like at Discount Mags as well, use the coupon code: THRIFTYNWMOM & you should get 20% off the order price (this may not apply to all magazines, but it does work for most of them).
This offer will expire at 9pm pst tomorrow night (11/11/14).