This post is sponsored by Uber Eats. All opinions are 100% my own.
Uber Eats Delivery – Everything You Need To Know To Use It!
Do you ever feel like grabbing those foods you enjoy when eating out, but just do not have the energy or desire to make the drive there and back required to pick the food up? If so, Uber Eats is the perfect solution to get your favorite foods to you, without the hassle of running out of the house after a long day. I can think of many nights after picking the kids up from all of their sporting and school activities, that I think I would love to not have to cook tonight, but I want something more than pizza. It used to be that there were only a small number of spots you could order from if you wanted food delivered to you, but that has all changed with Uber Eats. Now you can order from many of your favorite local restaurants (fast food and dine in restaurants) and have it all delivered right to your door.
What Is Uber Eats?
Uber Eats is a food delivery app from Uber that makes getting great food from your favorite local restaurants as easy as requesting a ride. All you do is download their app, select the spot you want to order food from, and set up your delivery time. Then you relax and wait for the food to arrive to you. It is a game changer for sure!
In my area Uber Eats is available at many local restaurants within 30 minutes of me. Consider that if you are looking at one that is close to 30 minutes away this service could save you over an hour (time there, time back and pick up time)! That is a big win for our busy evening schedules.
We tell you what you need to know about how Uber Eats works, and how you can start using it right now.
How do I start using Uber Eats?
Starting is as easy as installing the app on your smart phone, and ordering. It will take a few minutes, and you can use it immediately (as soon as ordering your next meal)!
Start by:
• Downloading the app and sign up for Uber Eats by adding your delivery address and information.
• Choose from the full menu of your area's best restaurants.
• Place your order and follow along as your meal is prepared and delivered by your favorite restaurants!
Your Guide to Uber Eats Delivery App
How does the Uber Eats Deliver App Work? It is very simple to use, and makes ordering food through the app easier then picking up the phone!
Here is how it works: 
Download and Sign Up for the App here, and create your account. Now you are ready to start using it.
Browse – Uber Eats has hundreds of restaurants to choose from. When you open the app, you can scroll through the feed for inspiration or search for a particular restaurant or cuisine. When you
find something you like, tap to add it to your cart.
Order – When you're ready to check out, you'll see your address, an estimated delivery time, and the price of the order including tax and fees. When everything looks right, just tap Place
Order, and that's it. Uber will automatically use your card on file so you never need cash.
Track – Follow your order in the app. First you'll see the restaurant accept and start prepping. Then, when the order's almost ready, a nearby Uber delivery partner—in a car, on a bike, or on a scooter—will go to the restaurant to pick it up. Next, they'll drive or ride to you. You'll be able to see their name and photo and track progress on the map
This is a really nice feature as you can know just about when your food will arrive, to prepare for meal time. It also lets you know when to expect that knock at your door, so you have confidence that it is your Uber Eats delivery.
Enjoy! Now all that is left is to enjoy the meal you selected without having to pick it up!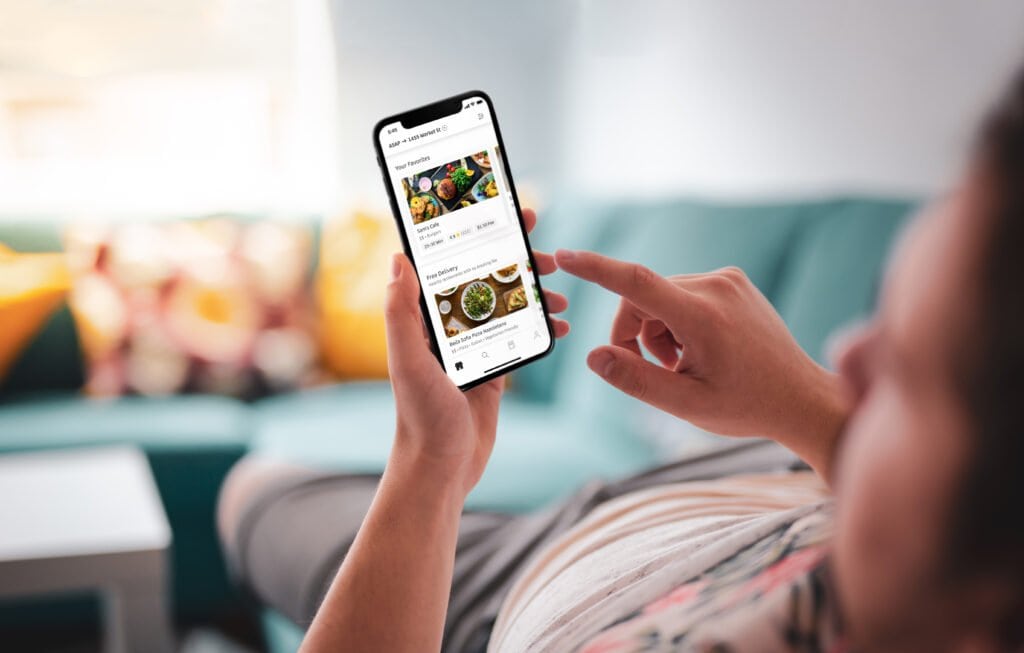 When is Uber Eats available?
Uber Eats is available seven days a week, whenever restaurants near you are open and accepting orders. It is available from participating restaurants in your area (and there are usually quite a few).
How much does Uber Eats cost?
Restaurants offer different meals at varying prices on the Uber Eats app. The fees for Uber Eats orders varies based on several factors, but you'll always see the fee upfront so you know what you're paying before you order. Note that prices and offers on the Uber Eats website and in the Uber Eats app may differ from prices and offers in the restaurant.
In our personal experience the fees have been very affordable, especially considering the time and gas we are saving by not doing the pick ups ourselves.
Tips on Tipping Uber Eats Drivers::
You might be asking, "Do you tip Uber Eats drivers"? Tipping is optional. You will have the opportunity to tip your delivery partner either in the Uber Eats app at checkout or when your meal is delivered. You can also rate your experience each time you order–just like you rate an Uber ride.
Can I gift someone with Uber Eats Gift Cards?
Uber Eats gift cards are available for purchase, and would make a great gift for just about any occasion. They also are a great option if you want to help someone out with a meal (they just had a baby, they are ill, or maybe faced a recent death in the family, etc). This way when you send a meal to someone you want to support, they can pick where they prefer to eat from. It is great for those meal trains us moms sometimes set up to help other moms or families out too.
My kids talked me into trying it out when they wanted food from a favorite local restaurant, but I was too tired to go get it. They showed me that the delivery charge for this restaurant was not all that much (especially considering that it would have cost me gas and time), and so I tried it out one evening. It was such a wonderful convenience that I was sold on the service after just one try!
Delicious + delivered. Get started with the Uber Eats App here now!
Have you used Uber Eats before? What was your experience?