Two Local Travel Deals – The Roosevelt Hotel in Seattle and Lincoln City, Oregon Beach House
There are two local travel deals that we wanted to share with you today. These may be great for romantic getaways for you and a spouse or even for a family mini-vacation!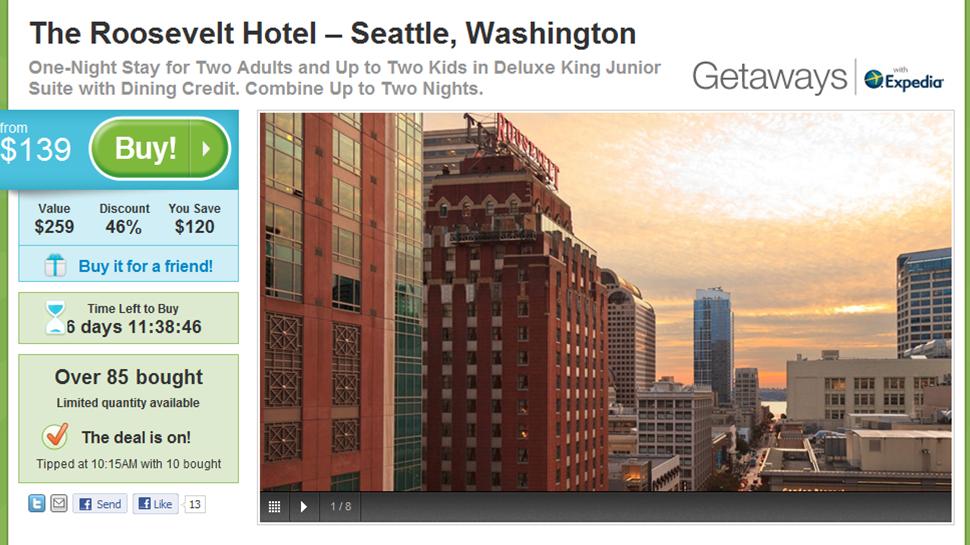 Groupon.com (Getaways, Seattle): The Roosevelt Hotel – Seattle, Washington: One Night Stay for Two Adults and Up to Two Kids in a Deluxe King Junior Suite with Dining Credit. Combine Up to Two Nights – $139 for Sunday through Thursday stay or $159 for Friday or Saturday stay at the Roosevelt Hotel. This might be a great way to enjoy the holiday season in downtown Seattle at a discount.
My husband and I (Jen) stayed at the Roosevelt Hotel in the springtime & we loved it! I was so impressed with this hotel – it's literally right across from Pacific Place & in the heart of all the shopping downtown!  We also ate at Il Fornaio & it was a very classy Italian restaurant at the top of Pacific Place. Delicious food & such an inviting atmosphere. I love to visit the city & this was the perfect hotel to do so. Just keep in mind that you will have to pay the additional parking fee of $26/night – definitely pricey but you'll find that almost all of the downtown hotels charge these prices for parking.
Here are some of the details and fine print. Please be sure to read through ALL the information on the Groupon site prior to purchasing.
Deal Details:
$40 restaurant voucher included for either Il Fornaio, Daily Grill or the Purple Café and Wine Bar (alcohol NOT included)
After purchasing Groupon, call the Roosevelt Hotel and book your stay. Tell them about the Groupon at time of booking
Parking not included – $26 per night for valet parking
Fine Print:
Must book by 4/1/12
Travel must be completed by 4/30/12
Not valid: 11/12-11/17, 2/10-2/11, 2/18-2/21, 3/5-3/7, 3/31 and 4/6-4/7
Limit 2 per person and 2 per visit
Valid only for deluxe king junior suite
$2 Seattle Tourism Assessment tax and 15.6% occupancy tax NOT included

SharingSpree.com (Portland): Lincoln City: One Night Stay at a Gorgeous Lincoln City Beach House (Sleeps 9) – $112.50
Here are some of the details and fine print. Please be sure to read through ALL the information on the Sharing Spree site prior to purchasing.
Fine Print:
May purchase as many nights as you would like
10% taxes are paid separately to owner upon booking
If accommodations are needed for 11, you may add the sleeping loft for $25/night (additional $10 cleaning fee does apply)
Cleaning fee is a flat, one time fee, of $130
Blackout dates: 5/12-9/30, 12/22-1/2, 3/18-4/1, 2/25-2/27
Single nights may only be booked Sunday through Thursday
2 night minimum Friday through Saturday
Expires 10/31/13