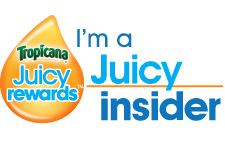 Have you noticed the a new logo on many Tropicana juice containers? Tropicana has an exciting, new program called Tropicana Juicy Rewards.  Basically, they are rewarding you for drinking orange juice! Sounds pretty good, right?  I am going to be sharing all about the benefits of this cool, new reward program over the next few months as a Tropicana Juicy Insider.
The way the Juicy Rewards program works is that you'll look for specially marked cartons of Tropicana juice and those cartons will have a unique code you can enter on the Tropicana Juicy Rewards site.  Many rewards site required you to earn a significant number of points before you're able to use your rewards; however, Tropicana's program is different in that they have rewards at every level. They even offer rewards for just 1 point.  Even better…just one carton of juice can earn you up to 15 juicy reward points. There are over 20,000 rewards to choose from on the Juicy Rewards site.  The rewards vary from everything to discounts on sportswear and camping supplies to bowling alleys, zoos, museums, theater tickets, spa services, and much more!  You can search for rewards by zip code, point value, or reward type.
I had the opportunity to try out this new reward program with a fun, family outing on Friday with my mom and my girls.  I looked up the rewards on the Juicy Rewards site and we decided to check out a local kids museum, Kids Quest Museum in Bellevue, WA,  that I've been wanting to try out.  For just 1 reward point, we were able to print off a discount for 2-for-1 admission.  This was a nice savings for us and my girls had an absolute blast at this kids' museum!  I think we'll try out another local kids museum next  – the Hands-On Children's Museum in Olympia, where we can get 50% off admission for up to 4 people for just 6 reward points!!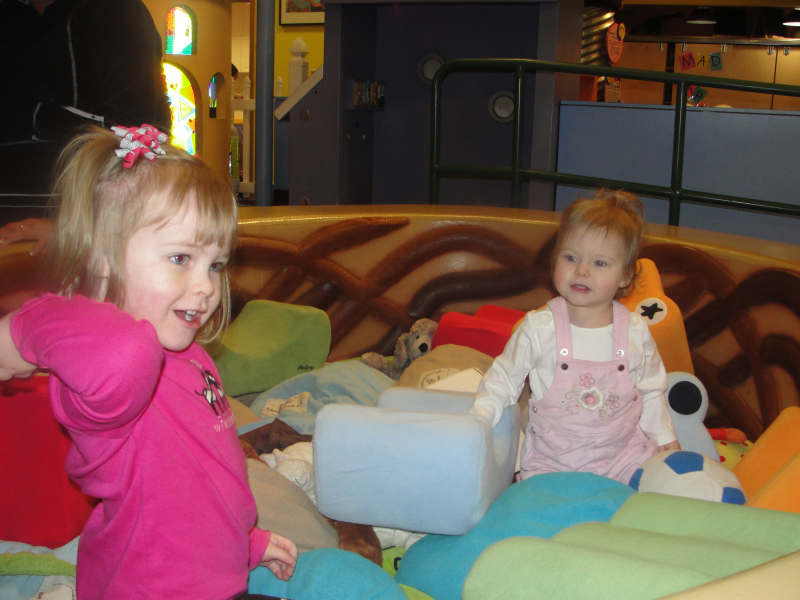 Look at all the fun they had at Kids Quest!
Extra Code for New Signups::
Now's your chance to try out Tropicana's Juicy Rewards program for yourself! You'll get an extra bonus point to get started!
Here's how it works:
-Visit Tropicana's Juicy Rewards site
-Register for a new account
-Click on "Enter codes" (top right hand corner)
-Get an extra bonus point for your account – Enter code: "MOTHE" (in 1st box) "RHOOD" (2nd box) within 6 hours of registering for the Juicy Rewards program. This extra bonus point will be worth $5 in savings.
Your bonus point can be redeemed immediately or you can save it and add more by buying Tropicana Juice & entering the codes online.  Once you have your codes entered, click on "Explore Rewards" and you can check out the wide variety of rewards offered.
Make sure to follow Tropicana on Facebook and Twitter, too, for more information on Juicy Rewards and possible rewards codes as well!
Update: Here's an extra code that was in the newspaper last week, too, which you can add to your account: LA73E – CL9W4
Disclosure: I am working with the Motherhood and Tropicana, and am being compensated for my participation in this program.   All thoughts & opinions I've expressed are 100% mine and not edited by any sponsors.  See my disclosure policy for more information.