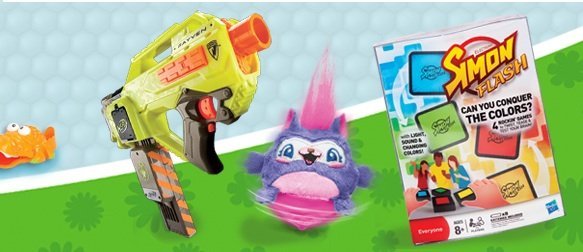 Hasbro has a bunch of new printable coupons out for games & toys!  We've given you a few great scenarios with these coupons at Target, keep checking back for more great deals!
Here's the list:
Transformers Coupon $4 off a $10 purchase
Kre-O Coupon $5 off a $20 Purchase
Baby Alive $5 off (Baby Alive Baby's New Teeth, Beautiful Now Baby or Baby All Better)
Chuck n Friends $5 off Race Along Toy
Nerf $5 off Vortex or Rayven
Furreal Friends Dizzy Dancer $2 off
Furreal Friends $2 off Snuggimals Pet
Littlest Pet Shop $2 off Walkables Pet
Chuck n Friends $5 off Tower Racin
Playskool Heroes $3 off
Connect 4 Launchers, Bop It XT or Monopoly Electronic Banking $5 off
Operation, Battleship or Twister $3 off
Candyland, Chutes and Ladders, Cootie or Memory Games $3 off
Gator Golf $5 off
Littlest Pet Shop Slide n Dive Lagoon or Speedy Tails RC $5 off
My Little Pony Friendship Express Train or RC Vehicle $5 off
Playdoh Swirlin Shake Shop or 24 ct colors $3 off
Playskool Heroes Rescue Bots Fire Station prime $5 off
Playskool Poppin Park $3 off $15
Playskool Poppin Park Bounce n Ride $5 off
Playskool Poppin park Elefun Popper $5 off
Free Sesame Street Mini Plush when you buy one Hasbro Plush $15 or more
Save $2 off a Star Wars Fighter Pods purchase of $5 or more
Scrabble Flash, Simon Flash, or Yahtzee Flash save $5
Buy 2 Chuck n Friends Die Cast vehicles and get 1 free
The Playsaver coupon insert was also in the Seattle Times, but not in the Tacoma News Tribune.  Did you have it in your local paper?  If so, let us know!