Today is Thrift Shop Day – Find Back to School Deals at Value Village to Save More!
This post may contain affiliate links and I may be compensated for this post. Please read our disclosure policy here.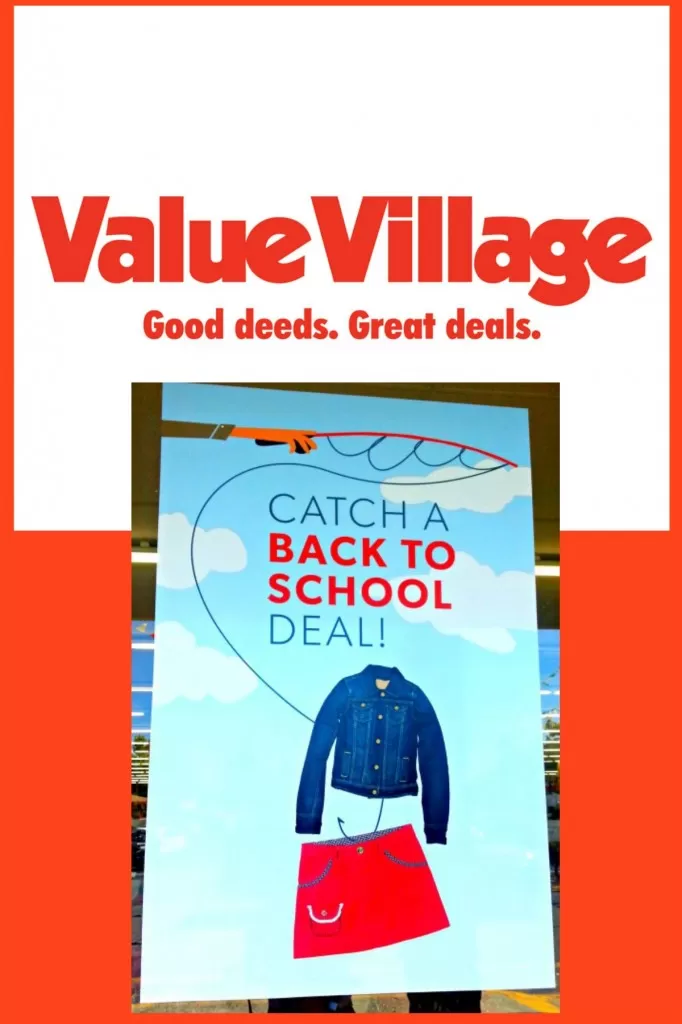 Did you know that today, 8/17 is Thrift Shop Day! That means its a great opportunity to consider shopping thrift for your Back to School needs at Value Village!! We shared with you previously about our back to school shopping trip at Value Village here (and you can find tips to save even more in that post)!
I have always loved thrift shopping, but Jen and I have had the chance to learn more about Value Village specifically this year, and so when we found out about a recent survey they were doing, we thought that some of you thrift shop fans might be interested in some of the results from the survey.
Here are some of the highlights from that survey: 
More than one-third of Americans report they are shopping in thrift stores more often than they did three years ago.
79% of Americans feel it's important to get a good value for their money when shopping, while 56% try to pay full price as rarely as possible.
Nearly 40% of respondents said they'd rather purchase a unique item that no one else has over one that's sold in popular retail stores.
I guess I was shopping thrifty before it was cool! How about you? Do you shop thrift stores, and if so how long have you been shopping them?
I definitely related to that last bullet about the unique items. Shopping thrift is like a treasure hunt for me. Rather then going in looking for a specific item, I generally go with the mindset of wondering what I might find in that trip. What is your approach?
Here are some stats specific to those of us from the Puget Sound area:
"51% of Seattle residents say they prefer a unique item over one that is sold in popular stores."
"48% of Seattle residents report that they shop at thrift stores because they can find different types of items and 26% report that they shop thrift because they can find things that fit their style."
"68% of Seattleites say it's important that they recycle or generally aren't wasteful." 
"81% of Seattle residents have set foot inside a thrift store at one time or another."
"47% of Seattleites like to mix and match new things with used items."
"72% of Seattle residents shop at thrift stores because they want to save money."
I am not surprised about the green shopping focus for our area. I think we live in an area that is very aware of the value of reuse, and that is a big draw. Plus, I loved the mixing old with new statistic. That is my approach to everything from decorating my house, to putting together a great outfit.
What do you think is unique about thrift shopping in our area, compared to the rest of the country?
Additional Survey Findings
Red Carpet Looks for Less: If given the difficult choice, American women would spend the day shopping with Kate Middleton or Jennifer Lawrence, while men would hit the racks with Hugh Jackman or LeBron James. But if an 18-49 year old guy is looking to duplicate a celeb's style? They'd pick Justin Timberlake's stylish look.
Hey, That's Mine!: However, if they're shopping for everyday clothing, outerwear or shoes for themselves, nearly three-quarters of shoppers prefer to hunt for the deals alone – perhaps to avoid bringing a friend who may snag that perfect find before they do.
Green is the New Black: Thrift stores may be an appealing option to the 58% of Americans who find it important to recycle or avoid wastefulness. By donating at Value Village, consumers are not only recycling their goods and keeping them out of landfills, but they're also supporting a local nonprofit in their community.
Plus, word is that Value Village will be having another big 50% off sale coming up on Labor Day (9/1/14), so mark your calendars now for that event! If your one of the folks that shops thrift mostly to save money, then you will not want to miss that sale.
More articles you might be interested in: 
Disclosure: This post is sponsored by Value Village.  All opinions are 100% mine. See our disclosure policy  for more details.