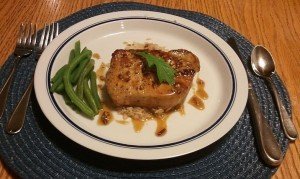 OK, so some of you may know that Thrifty NW Mom has been a bit busy workin' the blog and finding great deals for you, so occasionally, she leaves dinner up to me. She has no problem admitting that she loves it when I cook, and I enjoy it if I have time to get it ready.
With that in mind, I do enjoy cooking, now more than ever, after visiting Italy this past fall for work. I have actually gone so far as to add a lemon zester, a small sauce pan, and a real chef's knife to my perpetual Christmas/birthday wish list! It doens't hurt that I teach two doors down from a phenomenal cooking teacher that I get to bounce my ideas off of, either!
Well apparently, some of my dinner creations have been a hit, and so I have been asked to occasionally post a recipe when things go well (which, as my kids are quick to point out, is not all the time!).  You will probably notice a trend towards Italian dishes, as they are my favorite, and I frequently try new low calorie recipes of all types. I also will  try some different, healthier side dishes, and on occasion, a favorite dessert or two.
I must make a disclaimer, however: I am not an expert! Anything I post is subject to your scrutiny, and your feedback/suggestions are appreciated (polite scrutiny – after all I am a guy and have a frail ego! ;) )  If you see something that looks good, give it a try. And of course, true to our name, these meals will be reasonably inexpensive to make. I will often mention Zaycon Foods, where we get our chicken breasts cheap, and I try to mention sales whenever I can. But most of all, I will try to keep the ingredients to things that you probably (or should!) have in your kitchen.
Enjoy and let me know what you think! You can check out my Honey Spice Glazed Pork Chop recipe – it's a hit every time I make it!