ThredUp Promo Code : Get $15 off your FIRST purchase (Last Day)!
This post may contain affiliate links and I may be compensated for this post. Please read our disclosure policy here.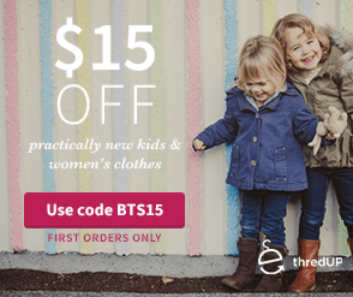 Just a reminder that today is the last day to take advantage of this offer. I talked with the folks at ThredUp yesterday, and it sounds like this will be the best offer available for Back to School shopping this year, so you don't want to miss out. Be sure to share with your friends today too, if they have not signed up yet!
There is a new ThredUp promo code available, that will give you $15 off your first purchase right now, through 8/9! Simply use the coupon code BTS15 at checkout. That means FREE clothing. You can find lots of clothes for under $15, so you'd end up only paying shipping, which starts around $2.99 depending on what you purchase.
This Hello Kitty Skirt still has tags on it, and would be free (and leave you $4 to shop with for a top to match) after thred up promo code!
This is a great way to get a jump on your back to school shopping too! Thred up is an online consignment shop, but I recently got my kiddos a box full of clothing with new tags on them for $25! Many items for kids start at just $2.99, so you might be surprised what you can get for free with this code, and then just pay the shipping costs. They even have a school uniform section if you need those for your kids for Back to School!
ThredUp is an online used kids clothing shop or an online consignment sale. It's a great way to save & get steep discounts on gently used kids items without having to leave your house.
There are quite a few good deals on clothing you could find with discount. We suggest searching from "Low to High" to find the best deals.
Twice is another spot you might be interested in, if you have not checked them out before. They have womens designer clothing on consignment. You can get some great quality pieces for a deal, plus new members get a free $10 credit to shop with when you sign up here!
Thanks Hip2Save!