ThredUP – FREE $10 Promo Code for New Customers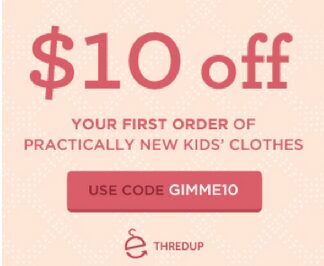 ThredUp is an online children's consignment sale site that I have recently started using and I am really liking it. They offer name-brand children's clothing items at a discount and it's also a really easy way to sell your used items without putting a lot of effort into it.  Right now, ThredUP has a new promo code available for $10 off your first order of clothing with promo code: GIMME10 (good through 2/22). This code cannot be combined with other offers. One code use per person. Cannot be applied to shipping. Shipping is $7.95, but many items on Thred Up start at around $2 or $3, so you could get 3 or 4 items for the cost of shipping if you shop carefully!  
If you'd like to try selling your gently-used children's clothing items on Thred Up, all you have to do is request a bag to be sent to you. They will charge an initial fee of $4.95 for the bag (if you are not buying anything, but just requesting the bag) but once you return the bag, then you will be credited the $4.95 to your account. If you are ordering items from ThredUp to purchase, then you will receive a bag with your purchase at no cost. The bag will come with postage already paid, so you just need to return it at no cost to you.
I decided to try selling some of my girls' clothes on ThredUp, so I ordered a bag and then also received a bag with my first purchase from ThredUP. I filled the bag full of clothes (they need to be in great shape, stain-free). I then dropped off at my local UPS store and did have to pay $1 for the store fee to take the package). But, I totally stuffed my bag and didn't have to pay for shipping, thank goodness. I'm now waiting to see how much money I will earn from ThredUp from my clothes, so I'll let you know how that process goes, but so far it's been very simple and easy to do.