Thred Up: $10 off Your First Order
Through May 5th, you can get $10 off $25 on your first order at Thred Up when you use promo code 10THRED25! This is a great time to get some summer clothes for the family. Shipping starts around $2.99 depending on what you purchase, so a $15 order (after promo code) could get you a good start on summer!
ThredUp is an online used kids & women's clothing shop consignment shop. It's a great way to save & get steep discounts on gently used kids items without having to leave your house. I have often gotten items that are new, with tags still on them. I have ordered brands like Gymboree, The Childrens Place and more great brands.
Note – You must be a first time Thred Up customer to get this offer.
Here are just a few examples we found: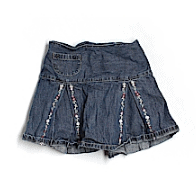 Gymboree skirt for just $3.49
Summer Dress for $10.99
And many more items!