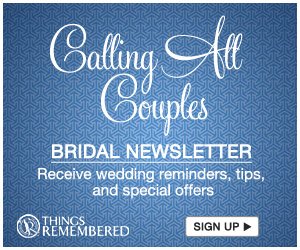 Just a reminder of this offer if you missed it when we posted the first time!
Are you or someone you know planning a wedding? You might be interested in signing up to get The Things Remembered Bridal Newsletter for free then! It will help guide you through the wedding planning process with tips & tricks to make your day as unique as your love!
Here is what is included:
– Announcements of exclusive contests, bridal events, & special offers
– Personalized gift ideas for the bridal party, officiants, parents, & more
– Stories & creative ideas from other brides
– Advice from our gift experts for engraving & personalization
And this offer for 8 FREE Wedding Invitation Kits from Wedding Divas is still available too. Be sure to check that one out, it looks like a great freebie!
(Thanks for reminder She Saved!)