Teacher Appreciation Events this weekend!
This post may contain affiliate links and I may be compensated for this post. Please read our disclosure policy here.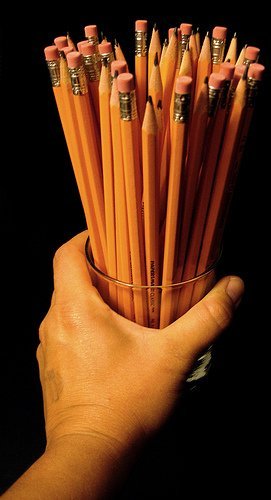 I have been so busy with my brother & family in town this week (& we're preparing to head to California on Sunday a few hours after they leave – talk about crazy!) – so I almost forgot to post about this! But, since my hubby is a teacher, my mom was a teacher & I have also been an educator in the schools – how could I not post this? :) Teachers need all the discounts they can get because I know full well that you put alot of your own money into preparing your classrooms & providing supplies for your students!
This weekend is the big Teacher Appreciation Weekend at many stores – you'll need to check with your local store to see if they're participating as some locations have different dates, but I will list the stores that should be participating.  This is a great time to stock up on school supplies with some discounts provided by various retailers.
*This also typically applies to homeschool parents – you'll have to check with each store on their requirements for showing that you're a homeschool educator.
Other Upcoming Teacher Appreciation Events:
Staples

– Free gift for first 100 teachers; Check their website for the date for your local event. I checked several WA stores as well as an Oregon store & August 21st was the date that they will be participating, but this could be different for every store. They should also be providing a FREE breakfast as well.

Michaels

– Free Crop Event for teachers on Sat 8/27 from 3pm – 8:45pm.  Learn how to create fun bulletin boards, bookmarks, signs & more. They provide the space & an assortment of tools.
Let me know if you hear of other Teacher Appreciation Events or Discounts!