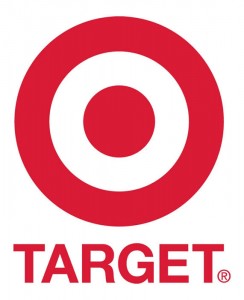 Here are this week's Target highlights for store sales & coupon matchups. Make sure to print the newest Target printable coupons! Print them all over at Target.com.
Are you new to shopping at Target with coupons?
• Target allows you to stack 1 manufacturer's coupon with 1 Target store coupon. The total of the coupons must be less than or equal to the price of the product (they do not allow overage). They should mark the price down of the coupon if the coupon value is greater than the price of the product.
• Target Coupon Policy – I recommend printing off the coupon policy & keeping it in your coupon binder in case you run into any problems. Their policy says they do allow internet printable manufacturer's coupons.
• Target Price-Matching Policy– Target will match any competitor's printed ad price for the exact same product. You must bring in the complete competitor's ad & it must be local & current. This is another policy I recommend you print & keep in your coupon binder.
• Target Printable Coupons – Print Target store coupons & manufacturer's coupons
• Target Mobile Coupons – Do you have a smart phone? If so, sign up to receive exclusive Target store coupons on your mobile phone.
FREEBIES:
Bayer Advanced Extra Strength Aspirin – $3.49 each
Use $2.00/1 Target mobile coupon
Pair with $2.00/1 coupon from 6/12 Smart Source insert
Final Price: FREE
Reach Dental Floss – $0.97 each
Use $0.50/1 Target coupon from 9/11 Smart Source
Pair with $0.50/1 coupon from 7/31 Smart Source
Final Price: FREE
Deals $1.00 or less:
Cascade Complete 4 pack – $1.02 each
Use $1.00/1 coupon from 8/28 P&G insert
Final Price: $0.02 each
Colgate Optic White Toothpaste – $2.99 each
Use $1.50/1 coupon from 9/11 Smart Source insert
Pair with $1.00/1 Target printable coupon
Final Price: $0.49 each
Archer Farms Yogurt Cups – $0.55 each
Buy 10
Use $0.50/10 Target printable coupon
Final Price: $0.50 each
Other Deals:
Progresso Soup – $1.50 each
Buy 4
Use $1.00/4 coupon from 9/11 General Mills insert
Final Price: $1.25 each
Eggs, Grade A, One Dozen – $1.39 each
M&M's Candy – $2.66 each
Use $1.00/1 M&M's Pretzel coupon from 9/11 Red Plum insert
Final Price: $1.66 each
Cheez It Crackers – $2.25
Buy 2
Use $1/2 printable coupon
Final Price: $1.75/ea

Keebler Fudge Stripe Cookies – $2.25 each
Buy 2
Use $1.00/2 coupon from 8/7 Red Plum insert
Final Price: $1.75 each
Stride Gum 3 pack – $2.50 each
Buy 3
Use $1.00/3 coupon from 8/7 Smart Source insert
Pair with $1.00/2 Target printable coupon
Final Price: $1.83 each
Schick Intuition or Hydro 5 Razors – $6.49 each
**Receive a $5.00 Target Gift Card when you buy 2
Buy 2 Schick Hydro Razors
Use (2) $2.00/1 coupons from 8/7 Smart Source insert
You Pay: $8.98 and receive a $5.00 gift card
Final Price: $1.99 each after gift card and coupons
Kashi Assorted Bars, Cookies, Cereal, Crackers and Frozen Entrees – $2.99 each
**Buy Any 5, Get One FREE
Use $1/1 Kashi Frozen Entree or Pizza printable manufacturer coupon
Use $1/3 Kashi granola bars printable coupon
Use $.75/1 Kashi Frozen Entree or Pizza printable coupon
Use $1/1 Kashi TLC Pita Crisps (IE) Printable coupon (FF)
Stack with:
$1.00/3 Kashi Granola Bars Target printable coupon OR
Use $1.00/2 Kashi Snacks Target printable coupon OR
Use $1.00/3 Kashi Cereal Target printable coupon OR
Use $1/1 Kashi Frozen Entree or Pizza Target printable coupon
Final Price: As low as $1.33/ea after coupons
John Frieda Full Repair Shampoo – $5.99 each
**Receive a $5.00 Target Gift Card when you buy 3 John Frieda Products
Buy 3
Use (3) $1.00/1 coupons from 8/28 Smart Source
Pair with $3.00/2 Target printable coupon
You Pay: $11.97 and receive $5.00 gift card
Final Price: $2.32 each after gift card and coupons
Maybelline Falsie Mascara – $5.00 each
Use $1.00/1 coupon from 9/11 Red Plum insert
Pair with $1.00/1 Target printable coupon
Final Price: $3.00 each
Revlon Super Lustrous Lipstick – $5.00 each
Use $1.00/1 coupon from 8/14 Smart Source insert
Pair with $1.00/1 Target printable coupon
Final Price: $3.00 each
Market Pantry Frozen Chicken Nuggets – $3.99 each
Buy 2
Use $1.50/2 Target printable coupon
Final Price: $3.24 each
Archer Farms Frozen Pizza – $4.50 each
Buy 2
Use $1.50/2 Target printable coupon
Final Price: $3.75 each
Room Essentials Fast Dry Bath Towel – $4.00 each
Up & Up 500mg Acetaminophen, 100 ct – $5.14 each
Use $0.50/1 Target printable coupon
Final Price: $4.64 each
L'Oreal Excellence Crème Hair Color – $6.99 each
Use $2.00/1 coupon from 8/14 Red Plum insert
Final Price: $4.99 each
L'Oreal Infallible Lip Gloss – $6.99 each
Use $2.00/1 coupon from 8/7 Red Plum insert
Final Price: $4.99 each
Scrubbing Bubbler One Step Toilet Cleaning Kit – $8.99 each
Use $4.00/1 coupon from 9/11 Smart Source insert OR $4/1 printable coupon
Final Price: $4.99 each
Pantene Shampoo or Conditioner – $5.50 each
Buy 2
Use $1.00/2 coupon from 8/21 Smart Source insert
Final Price: $5.00 each
Aveeno Daily Moisturizing Lotion – $6.49 each
Use $1.00/1 Target printable coupon
Final Price: $5.49 each
Target Home Spa Bath Towel – $6.00 each
Tampax Pearl Tampons, 36 ct – $7.49 each
Use $1.00/1 coupon from 8/28 P&G insert
Final Price: $6.49 each
Always Long Liners, 108 ct – $7.49 each
Use $0.50/1 coupon from 8/28 P&G insert
Final Price: $6.99 each
Downy Fabric Softener – $7.99 each
Use $0.50/1 coupon from P&G insert
Final Price: $7.49 each
Seventh Generation Laundry Detergent – $11.99 each
Use $1.00/1 coupon from 7/31 Red Plum insert
Stack with $1/1 Target printable coupon
Final Price: $9.99 each
Rubbermaid 20 piece Locking Lid Food Storage Set – $12.00 each
Quilted Northern Bath Tissue – $15.99 each
Use $1.00/1 Target printable coupon
Final Price: $14.99 each
Claritin Chewables – $17.99 each
Use $4.00/1 coupon from 8/21 Smart Source insert
Final Price: $13.99 each
Olay Regenerist Micro-Sculpting Cream – $21.49 each
Use $3.00/1 coupon from 8/14 Red Plum insert
Final Price: $18.49 each