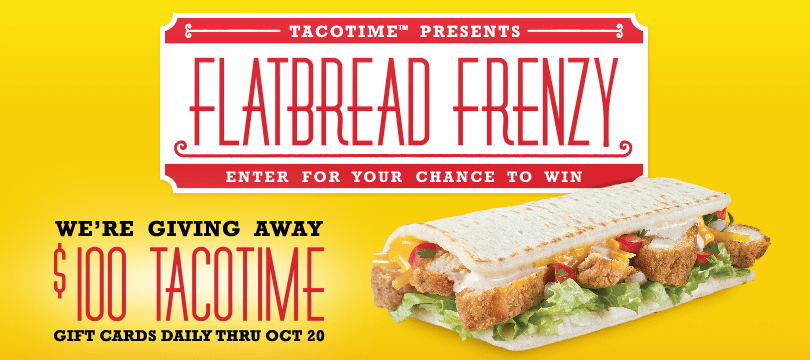 TacoTime has recently launched a new product that sounds delicious, called the Crispy Chicken Flatbread! It's all-white meat crispy chicken, cheddar cheese, lettuce, chipotle ranch dressing and their homemade salsa fresca wrapped in a warm flatbread. My son had a football game the other night, and I was too tired to cook afterwards, so we ran through TacoTime. It was so nice to get fast food, that tasted fresher then many drive throughs! I am looking forward to trying out this new Crispy Chicken Flatbread, how about you? Be sure to come back and let us know what you think after you have tried the new Crispy Chicken Flatbread.
TacoTime is so excited about this new product, that they're giving away $100 TacoTime Gift Cards daily from October 1st to the 20th! That is quite a few chances to win $100 to spend at Taco Time! Head to their contest page here to enter to win one of the $100 gift cards.
PLUS, there is a TacoTime coupon good for $1 off a Chicken Ranchero Burrito. Print yours now to save even more at TacoTime!
***About TacoTime***
TacoTime is a local chain, offering freshly-prepared, home style, Mexican fare that you can get at the drive through, or sit in restaurnts. Its a nice quick alternative to standard fast food, as there are some fresher options (not all fried food)! My family has been going to TacoTime since I was a little girl, and its as good today as I remember it back then. They started locally, in Eugene, Oregon back in 1960, the TacoTime Restaurant Chain has grown to 350+ locations in the United States and Canada. TacoTime's products are made with the freshest, most wholesome ingredients available. Menu items offer guests a real choice, from vegetarian items to a unique Chicken BLT Burrito.
So TacoTime fans, what is your favorite item they offer?
Disclosure: This post was sponsored by TacoTime. All opinions are 100% my own. See our disclosure policy here for more information.