What a fun time we had at the Tacoma Mall Moms Nite Out event last night!   The Tacoma Mall, Showcase Magazine & 24/7 Moms all did a fabulous job of providing a great event for moms of all ages.  I had such a great time meeting so many Thrifty NW Mom readers at the event & connecting with you face-to-face & hearing about your money-saving tips & experiences.   Many of you also had the opportunity to meet my blogger pal, Abby from Steals & Deals – you'll definitely want to check out her site as she does a great job of finding all sorts of savings online & in the stores!
And a big welcome to all of you who I met last night who are new to Thrifty NW Mom! I hope you'll find this site a great resource for bargains & money-saving tips for the  NW as well as all areas of the country.  You can learn more about me & what this site is all about HERE.   And I will be posting the winners of our 4 giveaways in the next post!!
Here are a few ways to get you started on staying up-to-date on the latest bargains & tips that I'll be sharing here:
Here are just a few pictures from the Thrifty NW Mom table at the event last night (unfortunately I didn't get a chance to leave the booth to take pictures of the other great things happening at the event!) ! Thanks to Abby & my friend Missy for help setting everything up!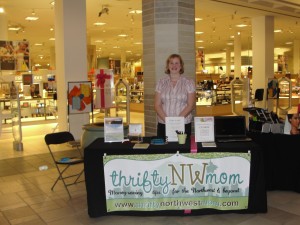 Abby from Steals & Deals & Me