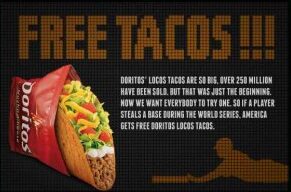 Just a reminder that today is the day to get this deal if you were interested!
If you're watching the World Series (or if you've been on the TNWM Facebook page tonight when Sia announced this) – then you'll know that Taco Bell is offering a FREE Doritos Locos taco because a base was "stolen" during the World Series.
All you need to do is head into a Taco Bell on Tuesday October 30th between the hours of 2 and 6pm and you can get a FREE Doritos Locos taco – no coupon needed!
{Go Giants!! I have to say that for my dad who grew up in San Fran and is a die-hard Giants fan! :) }