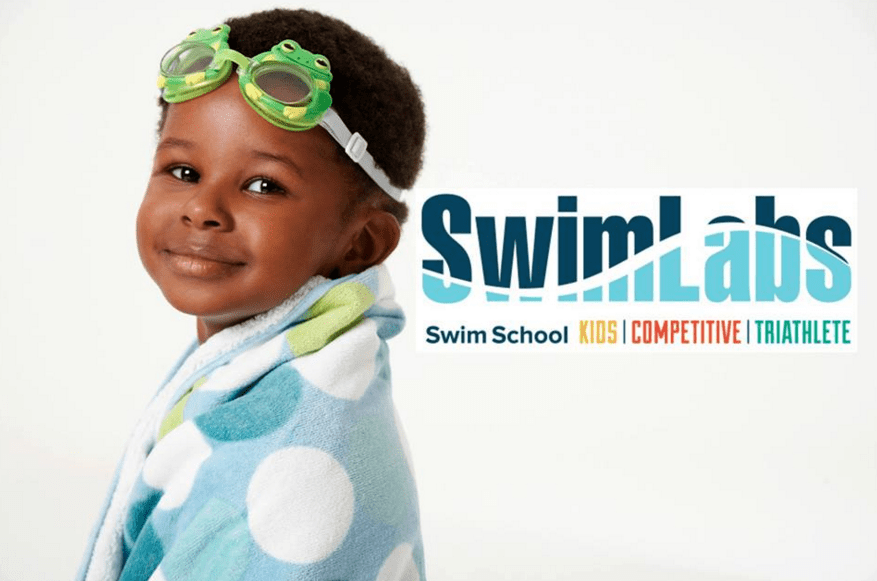 Living in the Northwest, it can be harder to find a lot of pool options for teaching kids to swim, so we are always on the lookout for places that offer high quality swim lessons for kids. Swimming is different than any other sport as it's not just a recreational sport for kids, but an important, life saving skill for all kids to learn. For our family, that has meant that it's not always about finding the most frugal option, but the option that will help our child learn to be a strong swimmer faster and help them feel more comfortable & safe in the water.
We've done both the smaller pools & classes & the larger classes at places like the rec centers or Y's with our girls. Honestly, the smaller pools are where we saw improvement a lot faster. So, that's something to really consider when looking at overall costs – how long it may take your child to learn to swim in the different environments & if a smaller setting with different techniques could help them learn to swim much faster so that they take lessons for a shorter time period.
We just learned of a new, unique learn to swim facility called Swim Labs NW that opened last June in Issaquah, WA. They offer individualized attention and small pools so the kids are more engaged & don't get as distracted as they might in large pools with lots of kids. The smaller pools also can work well for kids who are scared or intimidated of swimming as their purpose is to make swimming fun & enjoyable for kids, not something to dread. The instructors are highly trained adult swim instructors who are lifelong swimmers. And the water is nice & warm, which is important in our wet Northwest weather.
But, the most unique aspect of the Swim Lab NW swim facility is that they have 360 degree video feedback as kids learn to swim. The technology they use provides instant video feedback and mirrors on the bottom of the pool so that kids can quickly learn the proper swim technique & how to change their strokes & improve with the immediate visual of how they're doing.  This is the same technology that Olympic swimmers use to train. How cool is that?!
Parents also get an up close view for swim lessons and also get to watch the video screen to see how your child is doing learning their stokes. This will help parents to know what to practice in between sessions & they even send you home with a video analysis of your child's lesson.
Swim Lab NW offers these types of kids swim lessons:
Group lessons (no more than 4 kids per group)
Semi-private lessons
Parent- Tot Lessons – with parent & toddler (ages 1-3) – no more than 6 students in class
If you have tried swim lessons at the Swim Lab NW, we'd love to hear your experience & what you think!
Free Open House – March 20th from 1-3pm:

Swim Labs NW will be offering a free open house on Sunday March 20th from 1-3pm to introduce their new preschool swim program to the community. They will be offering demos, raffle drawings for free lessons, snacks & lots of fun. This sounds like a great opportunity to go and see what's it's all about & how their video feedback works & what swim lessons will look like at their facility.
Follow Swim Lab Northwest on Facebook to keep up to date on the most recent information & updates too!
Disclosure: This post is sponsored by Swim Lab NW. All thoughts & opinions are 100% our own. Please see our disclosure policy for more details.