Swargain – Make Money By Selling Your Own Daily Deals!
This post may contain affiliate links and I may be compensated for this post. Please read our disclosure policy here.

If you are a fan of daily deals, and would like to try your hand at selling the deals, there is a new site that will help you make some money! Swargain.com, a new Seattle based company, is offering its members an opportunity to make some extra money while working at home. Swargain will let you negotiate your own deals, and when you share the deal on Swargain.com you make money from each person that purchases the deal you negotiated!
Here is the basics on how Swargain.com Works:
1) You negotiate a deal with a merchant.
2) Swargain provides all of the legal contracts and the online marketing forum (the deal will be sold through the Swargain website).
3) Deal is sold online at Swargain (and you share with all of your family and friends through your social networking sites).
4) You make 4-8% of the gross sales for your efforts. Swargain will cut you a check for this amount at the end of the deal.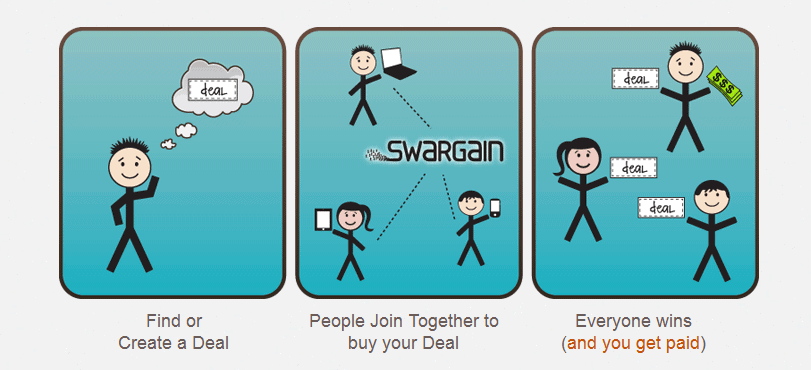 An example of how this might work could look like this:
You love to take the kids for cupcakes at your favorite cupcake retailer and you have gotten to know the folks in there. You know your friends also love that spot. You talk to manager/owner of that establishment and they say the lowest that they could sell a voucher for would be 40% off. You decide to offer a $20 voucher to their establishment, and they need to get back $8 for each one.
You say thats great, and set up those details through Swargain. Swargain will send the cupcake company the electronic contract and get a digital signature. They add 25% onto what you have negotiated (so in this case that would be $2, so you are now selling a $20 voucher for $10).
Swargain starts to sell the voucher on their site.
You leverage the power of Social Networking by telling your family and friends, and they share with their family and friends, and so on, to sell the vouchers!
Lets say 200 $20 vouchers sale at $10 ea. You would make 4% on that deal, so $80. If  500 of the deals sold you would make $200 and so on!
Remember, Swargain will be facilitating the process of getting the cupcake shop paid, the vouchers to those who purchase them, and the other processes involved in selling deals.
You just have to use your relationships to negotiate a deal, add it to the Swargain system, and then share it with those you know so you can make money from their purchases! You probably are already sharing great deals through your Social Networks, so now you can get paid for it!
Its a win win for everyone, because its marketing that small businesses can afford, its savings for you and everyone you know that loves to use that local merchant, and you make money for your efforts!
You can sign up for a FREE account at Swargain.com here, or visit their FAQ section, or learn more about the program here. You can also follow Swargain on Facebook to stay up to date on the latest deals and developments.
Jen and I are looking at trying our feet out at creating our own deals in the future too, so stay tuned for more info on that!
Disclosure: This is a sponsored post with Swargain.  All opinions are 100% ours. See our disclosure statement for more details.