Sunriver Resort (Fun Winter Getaway)
This post may contain affiliate links and I may be compensated for this post. Please read our disclosure policy here.
Sunriver is a great resort destination for folks in the Northwest and beyond! We love this resort for a Winter or Spring getaway. Its set on a river, with golf courses surrounding, and has just about everything you need in walking distance (via nicely laid out bike and walking trails). Mt. Bachelor is just a short drive away (shuttle available from resort) which is gorgeous! It is located in Central Oregon, so can be a drive, but its a great getaway.
We went in March a couple of years ago, and it was still snowy, the weather is a little unpredictable that time of the year but we got full blown snow that year and we loved it! It is a great Winter getaway, if you like snow.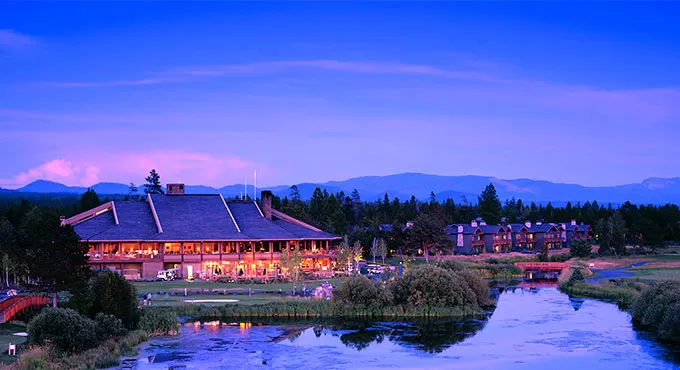 We were not able to afford to stay at the Sunriver Resort but we walked up there a couple of days and enjoyed the hotel. Its  a nice hotel, set right on the river and golf courses with a lodge like feel.
Sunriver itself is a beautiful little resort community with lots of golfing, biking trails, outdoor activities more.  There is a little village in walking or biking distance from resort. It includes restaurants, an ice rink for the kids, old fashion Ice cream and candy stores and more.
The resort itself has two swimming pools, one with a slide (its outdoor though so will not be open in the winter), and a kids club.  It would also be a great romantic getaway for a couple. It was about a 5.5 hour drive from Seattle so you may want to consider making it more then a one night trip if you live in this area.   There are museums, tons of outdoor activities, day trips and lots of relaxation to be had at Sunrivers. We love it there.
Ahh-menities Include:
Meadows at the Lodge, Owl's Nest, The Grille and McDivot's Café
Located near the Cascade Mountains
Originally a WWII training facility
Winter activities including skiing, sledding, snowshoeing, dog sledding and sleigh rides (seasonal)
Shuttle to Mt. Bachelor available
Sunriver Aquatic Facility, North Pool and Lodge Pool
Waterslide and children's pool
Outdoor hot tub
7 tennis courts (3 indoor, 4 outdoor)
Sunriver Nature Center & Observatory
4 Sunriver golf courses (seasonal)
Marina (seasonal)
Sunriver Stables (seasonal)
Sunriver Bike Barn and 35 miles of on-site bike paths (seasonal)
Sage Springs Club and Spa
Sage Springs fitness center with fitness classes available
Wireless Internet access included
Intra-resort transportation included
Activities for families and children, including Ft. Funnigan
Eco-friendly products and practices
Pet friendly
Concierge services