Suncadia Resort – My Families Review & Money Saving Tips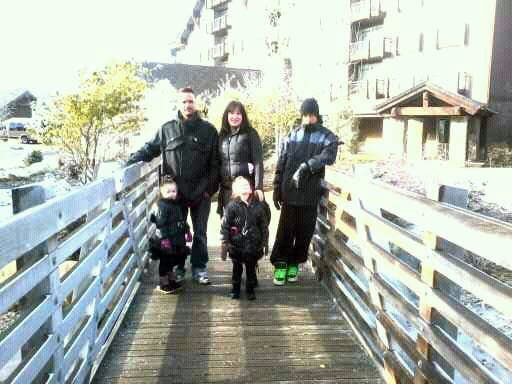 My family took a short getaway at the Suncadia Resort right outside of Cle Elum Wa. last winter. We had so much fun that I wanted to share this getaway idea and some tips on saving at Suncadia with you. You can often find deals available on sites like Groupon and Amazon Local, so be sure to keep an eye out for them. If you are looking for a fun Winter escape, without too much drive time from the Seattle area, this is a great option! It was one of my favorite winter getaways. We also went over Fathers Day one year, and it was beautiful in the summer. My husband loves to golf and kids and I enjoyed the outdoor pool, and outdoor meals, and have a wonderful relaxing vacation that time of the year too!
My Experience at Suncadia for a Winter Getaway –
This is not a cheap vacation, but it can be a budget friendly option if you are wanting to do a higher end vacation nearby. Suncadia is a great spot in the summer, but Suncadia also makes a really special winter getaway. The key to making this a budget friendly trip is to go in the off season, which makes it the perfect winter getaway!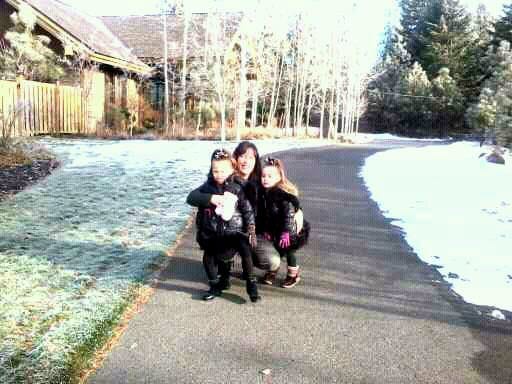 Before I get into the details on what Suncadia has to offer, here are my top 3 favorites about Suncadia Resort:
1) The beauty of the location – The outdoors here were wonderful, and the resort is set up in a way that it makes them easy to enjoy. Nice walking trails, lighting, outdoor fires and more.
2) Service – I felt like I got "special" service, but I imagine that is the goal of Suncadia, to make everyone feel like they are getting "special" service! I think it helped that we were there in the down season, so the lodge was not packed.
3) Amenities for the ease of access – by this I mean that it is an easy trip from the Seattle area that offers many winter and summer amenities for the whole family to enjoy.
We purchased our rooms when they were on Jetsetter, but the deal on Travelzoo right now is for the same type of room we stayed in.
We took grandma with us so we got a one room suite.  The same room we stayed in goes for $279 nt plus resort fee, so I highly recommend grabbing the hotel if you see it show up on one of the deal sites.
We went mid-week, the passes were clear and with no traffic the trip took us about 1 hr and 15 minutes each way from the Kent, Wa. area.
To get the best rate we booked it mid-week, and during the off season (sounds like that is basically times when the golf courses are not open). We booked in the summer, so what I did not realize is that many of the activities we hoped to participate in where not available mid week for some of the season (ice skating rink, water slides, sledding hill with rope tow, Santa activities etc.). They would have been available on the weekends, but then the rates jump up  a little higher. You will want to make sure you call the hotel to confirm what activities will be available during your stay if those are important to you.
When we checked in I expressed our disappointment (politely I hope) that nothing we planned to do was available during our stay, and we were advised by the very accommodating front desk to talk to the concierge for ideas during our visit.  We went to settle in to the room first, and soon after we got a phone call from the front desk asking if our room was ok, and letting us know that the concierge had been alerted that we would be stopping by and she was working on ideas for us. What a great welcome, and it set our trip off on the right note.
The room was great (similar to one pictured above), we loved the view of the river and canyon from our two balconies! It was breathtaking with the snow covered trees.  Each night we would take the kids out on the balcony before bed to check out the stars and "listen" to the quiet. It really felt like we had the whole resort to ourselves (one of the benefits of going during the off season, there were not too many people there).
After unpacking we went down to talk to the concierge who was fantastic. She was able to offer us events that were not scheduled (like the elf tuck in), and we were incredibly impressed with the lengths they went to to help us out. Ends up there was plenty to do for a short two night, three day stay – so much so, that we were not ready to go home by the end of our stay.
For my family this was a perfect mix for a nice relaxing vacation that allowed us lots of time to spend together, but provided enough to do to keep us busy. It was a much different pace then our Christmas weekend in downtown Seattle last year, but we loved it too. It still had that magical Christmas getaway, just in a quieter more relaxing way. If you want to be in the middle of a lot of action, this may not be the right match. If you are looking for time to relax and just enjoy your family then this is probably a perfect fit.
Bottom line is that if you can get a reasonable rate at Suncadia on the rooms, then you can do this vacation on a budget or you can spend a little bit of money – its up to you.  Here are my best tips on how to meet someplace in the middle, so you can splurge but save while splurging.
ACTIVITIES
(Note – this review was done in Dec. 2011 – Be sure to check Suncadia's event schedule & activities guide for current offerings)
Once you have your room booked, there is plenty to do that will not cost an arm and a leg. You will want to be sure to check their events calendar before booking to make sure that the activities you want to participate in are available while you are at Suncadia.  Here are some that we enjoyed, or checked out during our stay.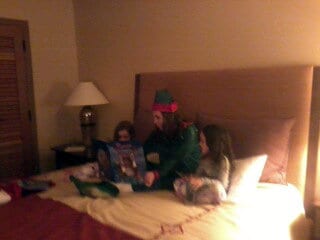 * Elf Tuck In (was free, but you tip the elf). This was so much fun. I have a three and a four year old so we let them take a bath in the very large spa tub, and then get settled in for bed. We told our girls that an elf would be coming to tuck them in, so when the doorbell rang they started to squeal and jump on the bed. They loved every minute of it. The elf was fantastic, she was so patient with the kids, jumped right on the bed and brought cider and stories. My girls loved every minute of it, and the rest of us were in the living room laughing at their questions, sneaking pictures, and I think we probably had just as much fun! You can schedule your visit for between 7pm and 9pm.  Where else can you get an elf tuck in!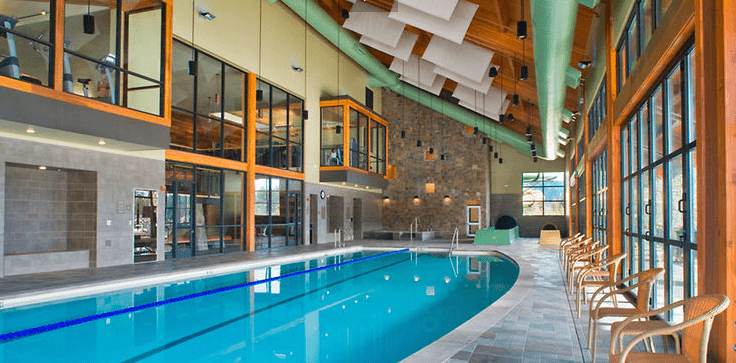 *Aquatic Center – this is included with your resort fee so there are no additional fees you need to pay once at Suncadia. There is a large indoor lap pool available, with noodles for the kids to play with while in the pool. There are two big water slides, but they are only open on select days (mainly weekends and school breaks in the winter, so be sure to check Suncadias event schedule if these are important to you.  You can work out in the upper floor gym, or there is an outdoor spa that was also open while we were there. We skipped the outdoor spa (only because we had just enjoyed the natural salt springs at their day spa, see below) but it looked nice. The pool was indoors, and we had it to ourselves, but I found it a little bit on the cool side and the kids only lasted about 40 minutes in it. There are mens, womens and a family locker room stocked with towels, soaps, showers, blow dryers and more.
*Fishing – they stock a pond on site with Trout, and the concierge has fishing poles that you can use for free.
*Evening Bonfires with Smores – There are a few outdoor bonfire areas in both the front and the back of the resort. They are gas bonfires, and you can request that they turn them on at the front desk, but we found they were already on each evening. You can purchase smores kits in the coffee shop for $22, but you could have a smores night by the fire for much less if you bring your own supplies, or grab them in Cle Elum.
*Sledding – if there is snow the Concierge desk has sleds that you can borrow for free to head out and find a hill to sled on.
*Games – they have chess available by the fire in the main lobby, or you can stop in at the Concierge desk and request games. They have a game closet that you can borrow games for free to take back to your room, or use them in the fireside room across from the coffee shop (we loved it in there, nice and cozy – plus there are computers with internet access if you can't stay away).
*Nature Walks – There are great walks down to the Cle Elum river (about a half hour each way). The scenery is beautiful out there.
*Playgrounds – depending on the weather there are a couple of very cute playgrounds for the kids, basketball courts and baseball fields for the older kids. We tried to use the playground, but there was ice and snow (and lots of what I am guessing was Elk poop – like a herds worth, piles everywhere so we thought we would save that for another season.
* Trip into Roslyn – I have heard from some that they love this little town. Its famous for the show Northern Exposure that was filmed there.  Its about a 5 minute trip from the Suncadia Resort, and to be honest we probably spent a total of 5 minutes there. Most of the stores were closed, and there just was not much to do. I did hear that they have a very cute historic one room theater that was playing the Muppets while we were there. If we had been staying longer I may have been tempted to check that out.
More activities for a fee:

*Natural Salt Springs At The Day Spa – This was one of our favorite activities. During specific winter dates, they drop the fee for a day pass to the spa down to $20 per person (regularly $35 pp). That is a heck of a deal for a spa with Natural Salt Springs. Kids have to be 7 or older (and accompanied by an adult), so we left the little ones with grandma for the afternoon, and took our teen with us for a day at the Salt Springs. Your day pass with grant you full access to the spa facility that included: 3 Natural Salt Springs and different temperatures (1 additional one that is accessible only to ladies), the sanctuary area that is like a common room with tea, water, etc., Sauna, Rain showers, and the luxury of getting ready after enjoying all of that with the spa products. We all loved it, including our teen (he is still talking about it).
* Ice Skating – this is only open on specific dates, primarily weekends and school breaks. It was not open while we were there, but we did check out the rink and it looked like lots of fun. Its outdoors and there are lights strung across the top. We almost booked one more night, just to be there when it opened on Friday evening! Cost is $12 for kids/ $15 for adults or you can purchase an all day pass.
*Inner Tubing Hill with Rope Tow – Like the Ice Skating this is only available during certain times, and it requires the cooperation of snow. It was not open while we were there, but we did check it out and it looked like fun!  You buy a punch card that is $20 for 10 rides or $35 for 20 rides,
FOOD
Food at Suncadia can be as affordable or as pricey as you decide. Here are some options:
* Cook In Room – The room we stayed in had a fully equipped kitchen, and there is a Safeway just over 5 minutes away in Cle Elum. You could cook your own food if you want to. The Safeway prices were the same as my local store, so you could eat for the same price you would if you stayed home if you decide to cook your meals.
* Firepit cookout –  Spend a meal roasting hot dogs and smores over the fire. This would feel like a vacation, but not cost much. The firepits are nice and big, and as long as you are bundled up they will keep you warm while you are cooking!
 Portals Specials – Portals is the restaurant that is located right in the Suncadia Lodge. We were at Suncadia over my birthday so had originally planned to eat a meal at Swiftwater Cellars, but we enjoyed the Portals restaurant so much we never made it anywhere else. We started to feel like we had our own table at this restaurant. One side of the table sat in front of a rustic but elegant iron fireplace, while the other view was out over the Cle Elum River (you can't see the river from the restaurant while sitting down, but the canyon view in general is beautiful).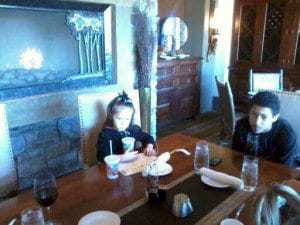 We loved every meal we had, and the chef (and entire restaurant staff) where so accommodating with the kids (they whipped up chicken strips, oreo cookie milkshakes, and other items not on the menu – everything he made tasted great to). Prices were reasonable for eating out. We were able to get a house wine (which I liked) for $4.50 a glass, I got a BLTA with fries for $12, and the kids meals ran around $8 – $9 ea).  On Thursday night all of the adults got the Prime Rib Special – This includes starter salad, 8 oz prime rib, baked potato, vegetables and dessert for $19.95. It was great, and I thought the price was very reasonable for what we got. They have different specials all week. Two stand out specials are: Kids eat free on Tuesdays and feed a family of 4 for $50 on Fridays with a classic home style meals that will please everyone in your family. Salad, entrée and dessert served with each meal.  The portion sizes where large, and so the meals where easy for my mom and I to share. We had the Lobster Mac n Cheese for lunch one day and shared the petite size, and it was perfect (and yum!). The menu says there is a $5 split fee, but they brought us an extra plate and we share it ourselves, and were not charged the split fee.
* Eat In town – you could head into nearby towns of Cle Elum or Roslyn to eat at more affordable restaurants.
Have you been to Suncadia?  Do you have more great money saving tips to share?We would love to hear from you, comment below with your tips.