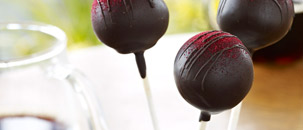 Starbucks has just released four new Petites: Brown Sugar Walnut and Chocolate Hazelnut Tarts,  and Apple and Cherry Pies. Just in case you need any extra motivation to try these new treats, Starbucks in running a promotion from April 9th -22nd. Get ANY two Starbucks Petites for only $2.
You can choose from one of the new flavors listed above, or any of the Petite flavors that Starbucks carries (like popular favorites such the Cake Pop (available in Birthday Cake, Peppermint Brownie, Raspberry Truffle, and Tiramisu flavors), Whoopie Pies (available in Chocolate Crème and Red Velvet) , and more.
Which Starbucks Petite is your favorite?