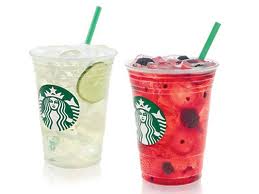 Just a reminder that this is the last day of this Starbucks promotion, in case you wanted to participate!
Summer is here, and Starbucks is offering a refreshing pick-me-up during their 3 p.m. lull. Starbucks is inviting customers to a Refreshers™ 3 p.m. Wake-up Call:  come into stores for three days (June 27-29) at 3 p.m. to try any of Starbucks Refreshers™ flavors at any size for half price.                   
New to the Refreshers line-up is the – Starbucks Valencia Orange Refreshers.  Launching in stores tomorrow, the new Valencia Orange Refreshers is a twist on citrus with notes of jasmine, cardamom and apricot, made with real fruit and fruit juice, highlighting Valencia orange and clementine flavors and topped off with a real naval orange slice.  Handcrafted Starbucks Refreshers™ beverages are infused with Green Coffee Extract, which contains the caffeine found naturally in green coffee beans, and contain real fruit and fruit juice – perfect for an afternoon pick-me up that is not overpowering.