Starting Friday May 24th, you can head on over to your local Starbucks and get a FREE Grande Frappuccino with the purchase of a 16 oz. Frappuccino Cold To-Go Cup ($12.95). This offer is available at ALL participating stores in the U.S. from Friday May 24th – Monday May 30th.
Do you need some suggestions on which flavor to try? If you love Caramel, you're going to love their new Caramel Ribbon Crunch flavor. It's a delicious coffee blended with four kinds of caramel, milk and ice topped with a layer of dark caramel sauce, whipped cream, caramel drizzle and a crunchy sugar topping.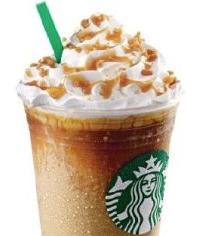 Which is your favorite frappuccino flavor?