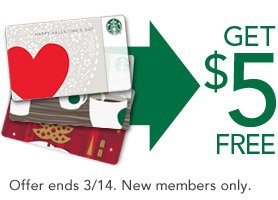 *Today is the last day to register your Starbucks card for a FREE $5 Starbucks gift card! I just realized I haven't done this so definitely need to do this today!
***********************
Want a Free $5 Starbucks Gift card? If you have yet to register a gift card for the Starbucks rewards program, then start now to earn a free gift card! If you are a new member and register by March 14th, you will earn a Free $5 Starbucks Gift card just for registering!
The way this works is:
The he $5 will be added to your registered Starbucks Card within 24 hours!
You'll keep earning your regular rewards too!
If you do not have a Starbucks Card you can do one of two things:
Visit your local Starbucks and request one (a minimum of $5 is required to load your card).
Download the Starbucks mobile app, create an account and get a digital card.
Other benefits of the rewards program include:
For every transaction you make at Starbucks, you will receive one star.
Here are the levels of rewards you can earn:
Welcome Level – Register your card & create an account & you'll be sent a postcard for a FREE drink on your birthday
Green Level = 5 stars
Free refills on brewed coffee
Gold Level = 30 stars
Free drink every 12 stars
Personalized gold card
Personalized coupons &
Thanks Hip 2 Save!