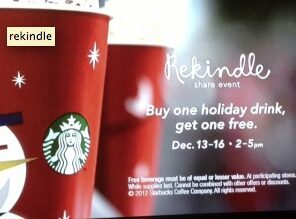 Starbucks is back with another awesome deal starting tomorrow – you can get Buy 1 Get 1 Free Holiday drinks from Thursday December 13th – Sunday December 16th. This will only happen between 2 and 5pm, so if you always head there for your morning coffee, you'll need to head there in the afternoon as well if you want to take advantage of this offer.
This has not been announced on their Facebook or on their website yet; however, it was shown as a tv commercial & has been confirmed with their corporate location. I will post the link once that becomes available.
Holiday drinks include:
Carmel Brulee Latte
Peppermint Mocha (I've found that my store will omit the espresso so that it makes a Peppermint Hot Chocolate since I'm not a coffee drinker)
Gingerbread Latte
Thanks for the picture & deal, Wheel n' Deal Mama!