Stamp Out Hunger – Donate Non Perishable Items – Saturday May 12th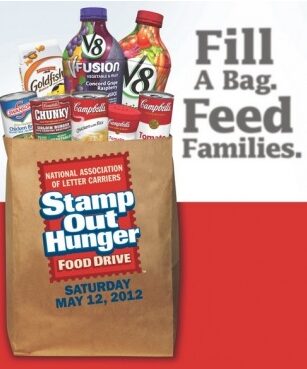 As we've been mentioning all week, this is the big Couponing for Community week, where you can put your couponing skills to good use & donate to your favorite food bank or organization & they're keeping a tally to see the difference that people are making in their communities .  Tomorrow is the last day for this event & it is ending with a big event that you all can participate in! You should have hopefully received a white plastic bag in your mailbox this week letting you know that the Stamp Out Hunger Food Drive  is tomorrow, Saturday May 12th.
 Stamp Out Hunger is sponsored by the National Association of Letter Carriers and it's so simple but a great way that you can give from your surplus & stockpile from couponing.  It is sobering to realize that 1 in 6 people in America are facing hunger – that's nearly 49 million Americans facing hunger in our country. This is a simple yet very effective way that we can each do our part to help combat hunger.
Here's what to do:
Go thru your stockpile & pantries to see what canned food & non-perishable items you can donate. Just make sure to not include anything in a glass container or that is expired.
Take a picture of the items you're donating & we'd love to see your donations on the Thrifty NW Mom Facebook page as well as on the Couponing for Community Facebook page. It would be great if you could write down how many items you're donating & include that sign in the picture.
Enter the total amount of items that you donated on the "See Our Progress" tab on the Couponing for Community Facebook page. This is where they are calculating how much everyone is donating to see the collective effort made by couponers to give to their communities. Keep checking back to watch the donations grow all day long!
Set out your bag (s) by the mailbox for your letter carrier to pick up when they bring the mail.