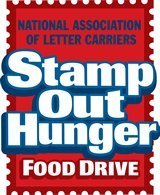 This Saturday, May 8th, is the  annual "Stamp Out Hunger" Food Drive.  It's the largest single-day food drive in the country!  Over 49 million people in America are in homes where they are struggling to keep food on the table & keep from going hungry! I had no idea the number was so high!
The "Stamp out Hunger" Food Drive is a great opportunity for those of us who coupon to share items from our stockpiles to help feed the hungry people in our own communities!  My mission with this site is to not only help you to cut your expenses & save money for your own families, but to encourage you to find opportunities to give & help those who are struggling around you! This is the perfect opportunity!
Here's how it works:
Place non-perishable food products in a bag
Leave it at your mailbox on Saturday May 8th
Your letter carrier will pick it up & deliver it to local food banks
Another way to give:
If you're unable to give or even if you are – here's another opportunity to provide food for the hungry: head over to the Stamp Out Hunger Facebook page & "like" the page. For every new "liker", Campbell's will make a donation of 1 can of soup to Feeding America.