Spend Less, Give More during the Holiday Season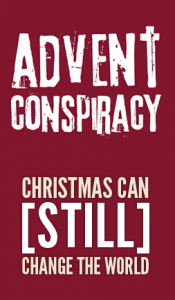 Image Credit
In the midst of this final week of Christmas shopping & the frenzy & rush that happens as you try to get everything bought in time for Christmas, I wanted to share a different perspective in a video called the Advent Conspiracy.
[AC] Promo 2011 from Advent Conspiracy on Vimeo.
We watched this last year for the first time at our church & we showed this again yesterday in our MOPS group. It's a very powerful video about slowing down & focusing on quality time & meaningful gifts & not so many material gifts, so you can give more generously- of your time and resources. This video specifically talks about the need for clean water in so many parts of the world & how we can help when we take the focus off of the material gifts & more on the real reason for the season.
You can learn more about the Advent Conspiracy on their website. It's sobering to hear that Americans spend $450  billion on Christmas gifts every year, yet there are communities living without clean water. It only takes $20 billion to bring clean water to everyone in the world. Definitely gives you perspective in the midst of this busy season & makes you think about what's really important.