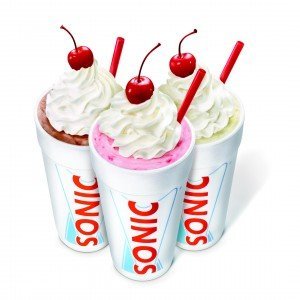 Sonic is also offering half-price shakes all summer long after 8pm at participating locations. So, if you're out & about with your kids & enjoying a fun evening, Sonic would be a great ending to your day with half-price shakes. Offer good through Sept. 1.
Plus a great tip from Jen & her family:
"Another frugal tip idea for drinking shakes from Sonic (or any other restaurant) for those of you with younger kids. I have found that the "kids sized" shakes and drinks are often just a little lower in price but they may be significantly smaller. So, I've started buying my kids a regular shake (which is typically only about $.30-.50 more) & then splitting it between both of them. They end up getting the same amount in their drink, but I pay much less than I would pay for 2 kid-sized drinks! So, try that out the next time you're at a restaurant & see if it really does work out to be more frugal! They often market items as "kid-sized" to get us to think we're paying less, when really it's a better idea to just buy a regular size & split it."
Thanks Money Saving Mom!