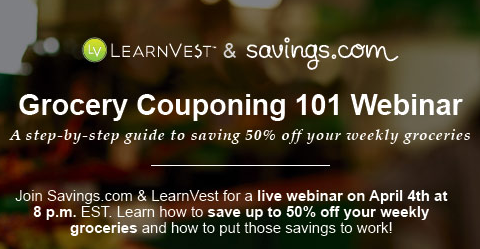 Are you looking for new ways to save? Learnvest and Savings.com have teamed up to bring you a 10 day Cut your costs Bootcamp. Join Learnvest and Savings.com for a FREE live webinar on April 4th at 8 pm. EST. Get this step by step guide to saving. Learn how to save 50% off your weekly groceries and how to put those savings to work!
This webinar is not just for new savers, even seasoned savers can get a lot of useful saving information (or use it as a refresher course).
Both Jen and Sia of Thrifty NW Mom are Savings.com Deal Pros. That means, by Savings.com standards, Deal Pros are the BEST money savers in the country.
Spots are limited. You must register to reserve your spot in the webinar for April 4th, 2013.