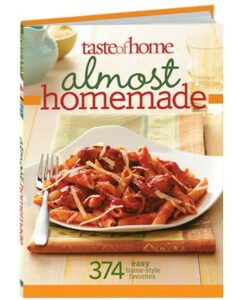 Shop Taste of Home is running a $5 Cookbook sale again.  Plus when you spend $20 or more, you'll get free shipping when you use the coupon code: LS108 at checkout. You'll find cookbooks as well as a few home improvement books & kids books as part of this sale.
Some titles offered during this sale include:
Healthy Cooking Annual Recipes 2010
Salads & Sandwiches
Comfort Food Diet Cookbook
Just One Pot
Fast Fixes with Mixes
Sesame Street® What Will Elmo Be?