Photo Credit: Hood Canal Seafood
Here is a fun deal you can grab for an outing to Hoods Canal. For $9, you can skip waiting for open season and head on over to Hood Canal Seafood to pick your own oysters ($18 Value) from Sharing Spree (Seattle). Get 3 dozen for this price! If you don't live near the area, its a fun ferry ride, and could make for a nice way to get outdoors with the family.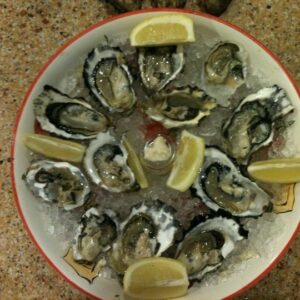 It sounds like an adventure. Here are some helpful tips from the Hood Canal Seafood website. Be sure to check them out for full details:
Wear hiking boots or shoes with good traction. The beach is rocky as oysters love to grow in rocky terrain. DO NOT come in flip flops or other open toed shoes as you will not be allowed on the beach.
You will not need a shellfish license as you are purchasing them from us.
Do not bring any pets with you as we can not have them on the farm.  This seems to be a constant problem. If you bring your pet they will have to sit in your vehicle.
Please bring a bucket with you to put your oysters in.  We will have some available for 5$ if you do not bring your own.
Bring gloves with rubber backings on them if you like; however it is not necessary.  I do highly recommend garden gloves for kids so they dont cut their fingers. However if you are going to be opening oysters while you are here you will need to make sure you have gloves on
If you would like to, bring a hammer as some of the oysters are in clusters and will need to be knocked off the rocks.
If you are coming out to the farm in the summer months (May – September) you will need a larger cooler to bring your oysters home with you.  They can not leave the farm with out being refrigerated. We will have ice available for purchase if needed as well as extra coolers for 10$
Each individual will leave with an oyster tag, and a handout for how to properly store oysters. Our staff will also be on hand to help educate you on our oysters and our farm.
For all GROUP ON users.  Your group on entitles you to pick and any children you bring with you (under the age of 18).  Any one else that comes with you will need to purchase oysters or pay a 5$ entrance fee in order to pick with you no matter how many group ons you purchased.
Fine Print:
Limit 5 per person. May purchase an additional two as gifts. No cash value. No change given. May not be combined with any other offers. Reservations required 48 hours in advance. Limited dates available for oyster picking: June 23, 2012 (noon- 3 pm), July 1, 2012 (9 am- 1 pm), July 7, 2012 (noon- 3 pm), July 21-22, 2012 (11 am- 3 pm), and July 29, 2012 (9 am- noon). Voucher is valid for up to three adults. A charge of $5 applies for parties over 3 adults that are not purchasing oysters or clams (children under the age of 18 are excluded). Promotional value expires 12/24/12. Expiration dates subject to the provisions of the state laws and regulations.