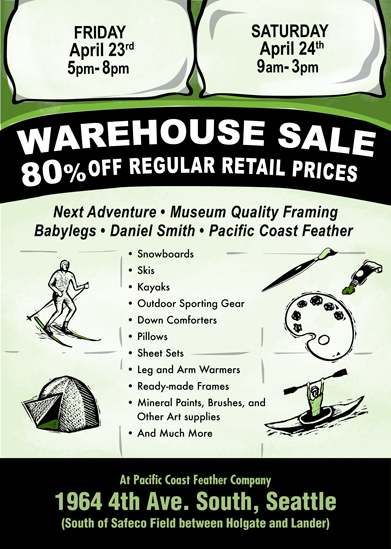 If you're near the Seattle area today, you may want to check out this Warehouse sale going on near Safeco Field with up to 80% off regular retail prices.  It's taking place from 9am – 3pm and as you can see by the flyer, there is quite the variety in products available at this sale.  Baby Legs will be at the sale, selling discounted leg / arm warmers, and you'll also find retailers such as Pacific Coast Feather, Next Adventure, Museum Quality Framing, & Daniel Smith.
In case the flyer above isn't clear, here are some of the items you'll find at this sale:
Baby Legs leg/arm warmers
Skis
Snowboards
Kayaks
Outdoor sporting gear
Down Comforters
Sheet Sets
Ready-made Frames
Art Supplies
This sale is taking place at the Pacific Feather Company, which is located at 1964 4th Avenue S, south of Safeco Field between Holgate & Lander in Seattle.
If you go, let us know what deals you found!