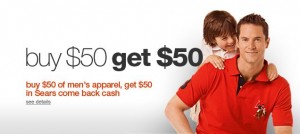 Update: Sears is now saying they will  not accept Sears gift cards as part of the promotion. So, if you buy these items using a Sears gift card, they will not qualify for the $50 rebate. See more details HERE.
Sears is having a special Father's Day promotion, similar to one they had last year around Father's Day. You can either go into Sears or head to Sears.com & spend $50 on a Men's apparel purchase.  You  can then send in a rebate to get $50 in Sears "Come Back Cash" to spend on a future purchase of Men's apparel. So, basically you'll be spending $50 to get $100 worth of Men's apparel/clothes.  Find all the details HERE.
This offer is only valid from June 11th – Sunday, June 20th and only one rebate per household.  You will find the rebate form online or you can send it in by mail. It needs to be postmarked or submitted online by July 20, 2010.  The Come Back Cash is valid to use thru September 30, 2010.
If you'll be shopping online, don't forget to go thru Ebates for 4% cash-back or Shop At Home for 5% cash-back.
Thanks Thrifty & Thriving!