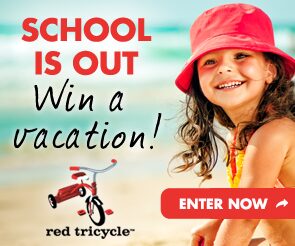 Red Tricycle is once again hosting some big giveaways – this time, it's for some fabulous locations for a summer vacation! Red Tricycle is one of my favorite resource sites for the Northwest as they feature a number of family-friendly events & activities each week plus great parenting articles. They have websites specific for Seattle & Portland (as well as San Diego, San Francisco, & Los Angeles) & you can sign up to receive their weekly e-newsletters filled with information for your area.
Win a Family Vacation from Red Tricycle:
How to Enter: 
Head over to the Red Tricycle Facebook page & "like" the page
Click on "Enter Now" to be taken to the entry form  & follow the rules & choose which vacation you want to enter to win.
Fill out the form & in the "Referred By" section, fill out:  Thrifty NW Mom
When you sign up for the contest, you will be automatically subscribed to their email newsletter. You can choose to opt out later, but I really enjoy this newsletter, I get it every week & it provides some great ideas of local family happenings.
*This giveaway ends July 16th. These giveaways do not provide airfare, so just be prepared for that!