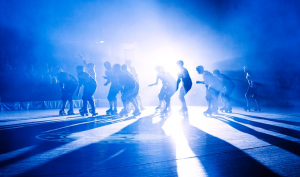 Rat City RollerGirls Discount Tickets
The Rat City RollerGirls  tickets are back on Goldstar with tickets 50% off the regular ticket prices for 3 events this summer. I know friends who have gone to these matches and have an absolute blast at the fast-paced, intensity of these matches.  The Rat City RollerGirls are currently ranked 17th in the Women's Flat Track Derby Association.
It's bound to be a knock-down, drag-out brawl as Seattle's premier all-female roller derby league, Rat City Rollergirls, pits teams in head-to-head, winner-take-all bouts at Key Arena. The league's skaters are divided among four home teams: Derby Liberation Front, Grave Danger, Sockit Wenches and Throttle Rockets. In addition, a small number of the league's best skaters are chosen to represent the league on its fifth team, the Rat City Rollergirls All Stars. Whether you're a die-hard fan or a derby newbie, these no-holds-barred match-ups are good, clean, girl-powered mayhem you won't want to miss. Please see the full event description for information about upcoming matches.
Rat City RollerGirl tickets on Goldstar are $9.50 each!
Note – There is an extra service fee of $3.50 per ticket.
Available Dates & Times:
Saturday, June 7th @ 5:30 pm
Saturday, July 12th @ 5:30 pm
Saturday August 9th @5:30pm
Location:
Key Arena
305 Harrison Street
Seattle, WA 98109
206 – 684 – 7200