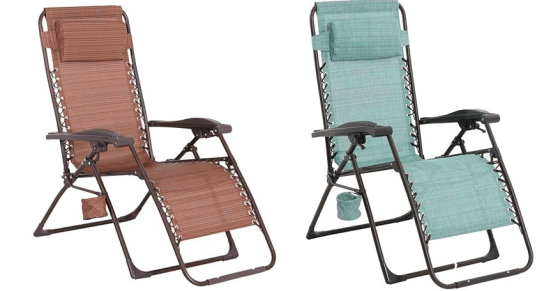 Check out this sale at Kohls.com for this Highly Rated Antigravity Chair! There are a handful of coupon codes and rewards that will make for a great deal if you are in need of more then one of these chair right now. You can get them for as low as $40.66 per chair, or $30.37 if you factor in rewards!
Plus, you'll earn $10 in Kohl's Cash for every $50 you spend!
Here is how this offer should work:
Sonoma Outdoors Antigravity Chair – $59.99
You can use code SAVELC3 to get them for as low as $50.99 after 15% off, and earn $10 back in Kohls Cash, or if you need more then one chair try this scenario to get an even better deal
Add 4 Chairs to your cart for $239.96 ($59.99 ea)
Use the coupon code SAVELC3 to take 15% off your purchase
and use coupon code PATIO50 for $50 off patio purchases of $200+
Shipping is free on orders over $75
Cost Out of Pocket: $161.46, or $40.66 per chair!
Plus, you'll get $30 Kohl's Cash!
And be sure to join the rewards program and you will earn a $10 reward for next month,
Thats like paying as low as $121.46 after Kohls cash and rewards (or $30.37 per chair)!!!
This is a HOT price for this chair. We have two and my family of five always fight over them! Might need to get a few more at this price.