Point Defiance Zoo & Aquarium- Half Off Admission for 4 1/2 Hours at Zoo on Friday July 28th
This post may contain affiliate links and I may be compensated for this post. Please read our disclosure policy here.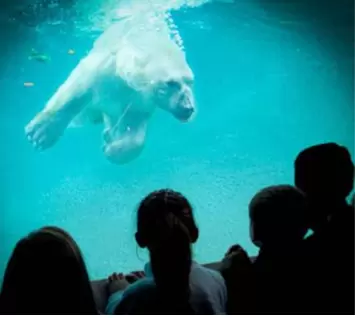 The Point Defiance Zoo & Aquarium is offering a special discount day on Friday July 28th – you can head to the zoo to spend 4 1/2 hours for half the cost of admission. July 28 visiting hours for the general public are 9:30 a.m to 2 p.m. (The Zoo is closing early for their annual gala for the fundraiser, Zoobilee).
Here are the prices for the half price day admission:
$4.98 for tots
$6.98 for youths
$8.48 for seniors
$8.98 for adults
Children 2 and younger get in free
Half-Day for Half-Price is also a great time to catch the zoo's all-new, live-action animal show, "The Wildest Show in the West," starring the highly talented Herald the dog, an anteater, a sloth, chickens and an assortment of a dozen or so other animals.
The 30-minute show, which begins at noon, features professional staging and set decoration, engaging music and a message about ways to reduce trash, reuse items and recycle when possible. At the show's conclusion, Herald the dog, know as Sheruff Bones in this show, rides in on a hot air balloon.
Zoo visitors also can walk among a sculpture garden of 10 larger-than-life statues of sea creatures hand-made from plastic trash that washed up on Oregon beaches. The Washed Ashore: Art to Save the Sea illustrates the issue of ocean pollution in a fun way that has visitors staring for long periods of time at Gertrude the Penguin, Chompers the Shark, Priscilla the Parrot Fish, Steve the Weedy Sea Dragon and other animals.
Visitors can engage in modified individual "scavenger hunts" as they search the sculptures for items embedded within them. They include cigarette lighters, a cell phone, a microwave oven, children's beach shovels, a toy robot, flip flops and a huge array of things you might think would ever wind up in the ocean – and then wash up on a beach.
If you're looking for more ideas for frugal summer fun around the Northwest, make sure to check out our Summer page for more ideas.